SEND Inclusion
Abbey and Fountaindale School, winner of the Youth Sport Trust Outstanding Inclusive Practice Award 2023 shows us how they support every child achieving their absolute best through belief, belonging and butterflies.​
In this video case study for #NSSW2023 we hear how one school, catering to children with a range of complex and multiple needs, ensures their young people achieve much more than that.
Boost for children with SEND accessing inclusive PE and sport​. Read more here.
Boys Move: Wellness through sports
Boys Move is a professional development programme designed to equip educators with the principles of how to use sport and play to address the mental health and wellbeing issues of adolescent boys and engage them with school. Boys Move isn't just a program; it's a catalyst for positive change.
​Girls Active is our commitment to fostering girls' participation in sport and physical activity. With the momentum of iconic figures like the Lionesses and the spirited 'This Girl Can' campaign, we've cultivated a movement that empowers young girls to lead, inspire, and thrive through the joys of active living.
With professional development that equips educators to engage and support all girls through voice and choice, we're shaping confident, empowered young women. 
Explore our free resources and take the first step in unlocking the potential of every girl.
Girls' Football Resources
Follow the link below to see the website that has been designed as a 'one-stop shop' for ALL schools in England to access support, practical resources and useful information to develop girls' football provision in your school.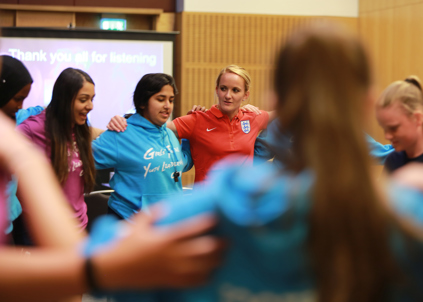 Find out how YST membership could support Equalling Access for All in your school.
Find out more