Can you tell us a little about Eleanor and how she likes to be active? 
Eleanor is a lively 5-year-old who happens to also have Down Syndrome. She adores being active and running around like any other five-year old. She loves swimming and we try and go twice a week! As a family we enjoy exploring the local countryside on long family walks.  
Are you aware of the UK Chief Medical Officers' guidelines for physical how they differ for young disabled people?  
We are 😊  
Why is it important for Eleanor and other young disabled people to engage in physical activity? 
Everyone should have the opportunity to be active in their own way for a fitter and healthier lifestyle. For Eleanor it is a chance to build on her muscle strength and perseverance. 
What are some potential barriers that may prevent young disabled people from engaging in physical activity?  
For Eleanor, she can tire very easily but aside from that, local activities are not tailored to people with disabilities and do not have the support in place for children or adults like Eleanor to attend. 
Has Eleanor experienced any barriers to participating in sport and physical activity? 
Absolutely, it is difficult for Eleanor to access even school clubs because of the support available. Unless we do many external lessons privately, she currently cannot attend them. Very pleased that from September there is a local Karate club that will be offering a class especially for people with disabilities. 
What advice would you give to parents and caregivers of young disabled people to encourage and support physical activity and inclusive play? 
Try and get creative and work the activities around what your child can do.  
Are there any specific types of physical activity that are particularly beneficial to Eleanor that you can recommend for young people with Down syndrome?  
When Eleanor was born, we focused on physiotherapy and leg strengthening exercises. Now that she is older, she benefits from ALL physical activity but as Eleanor says 'I LOVE SWIMMING" 
How can schools and other organisations support physical activity for young disabled people? 
I think schools and other organisations need to strive to be more inclusive and consider even just one class a week that's supported and cater for young people with disabilities. 
How can technology and other resources be used to help young disabled people engage in physical activity? 
During lockdown so many activities were put online - Eleanor particularly enjoyed the Oti Mabuse dance show on CBeebies and we still enjoy them now on iPlayer.   
What advice would you give to other parents around incorporating physical activity into part of your daily routine? 
Just get outside as much as you can, it's not only incredible for your mental health but you do not really realise how active you have been just walking to the local park and back!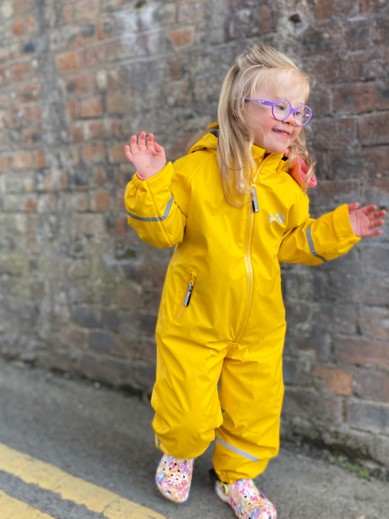 We are incredibly grateful to Eleanor and Helen for sharing their valuable insights, reminding us of the importance of inclusive physical activity for all young people. We hope that Eleanor's story inspires many others to embrace the joy of being active! 
Follow The Manton's on Instagram here: https://www.instagram.com/the_mantons/