DAY 1
Having set myself the challenge of completing Land's End to John o' Groats cycling (LEJOG) in 2020 to celebrate the 25th anniversary of the Youth Sport Trust, today I set off – a year delayed due to obvious reasons, but with a stronger reason to do it than ever. The impact of COVID 19 on our lives and lifestyles has been dramatic and through my family and work, I have seen its impact on two groups of people in particular: the young people we serve at the Youth Sport Trust and my Mum, who sadly has been suffering from dementia for a number of years. I have therefore decided to dedicate my live blog to reflections on both my work and Mum, and why I feel it is more important than ever for us to stay active and invest in human connection.
Today was day one of the ride with the first leg taking us from Land's End to Fowey. Despite heavy rain for almost all the 7 hours in the saddle, today was a good day.
I had the pleasure and privilege of growing up in Cornwall from the age of six when my parents moved our family here from Bedfordshire – we came down with my Mum's parents and without doubt it was one of the best decisions of their life. Cornwall is now where I consider my home, even though I haven't actually lived here for 34 years! The reason it is home, is because it's where my family are, and where I was 'made'. In many respects, today's ride was quite literally a trip down memory lane as we passed so many places on route that were significant in my childhood and my 'making'. Today's journey took me past places like the stunning Sennen Cove - as a child I was at my happiest in the sea. And most of all in the surf. I am sure it was being thrown about in the waves, battered by the wind and having the frequent taste of sea salt on my lips that gave me my love of the outdoors – wide open spaces give us a sense of perspective like nothing else, and in a world where we often spend hours and hours viewing the world through a gadget only a few inches from our face, I believe time in the natural environment in by far the best antidote to the worries and pace of today's world.
We also routed nearby to my schools, Charlestown Primary and Penrice Secondary where I was lucky enough to benefit from the commitment, inspiration, and dedication of PE teachers like Mrs Feast, Mr Martin and most of all Mrs Hyde and Mrs Furniss. All these individuals went way above and beyond to help 'overly-energetic' children like me find our place in school and fostered values that will last a lifetime (respect, responsibility, and resilience to name a few). I will forever be indebted to all of them for being such outstanding professionals who knew school sport was about so much more than winning cups and trophies. And finally, to complete my day of reminiscing we passed the home of some of the clubs where I enjoyed a youth full of sport - St. Austell Ladies Netball and Hockey Clubs and Par & Newquay Athletics Club. These nurturing contexts, alongside my experience of physical education, laid the foundations for my passion for what I do today at the Youth Sport Trust – building a brighter future for young people through the power of sport.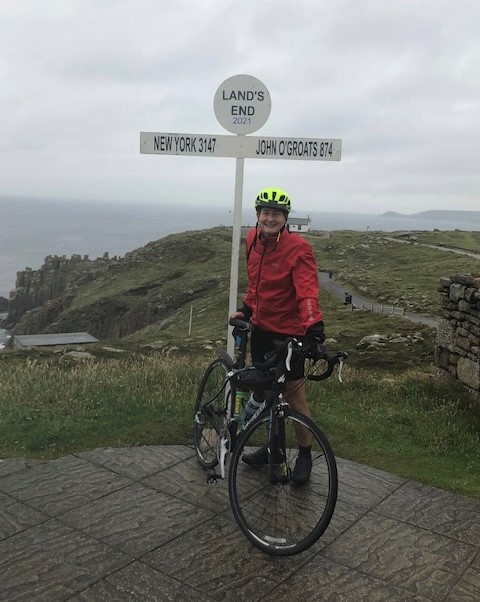 Through these clubs I think I acquired two of the most important things in life…independence (was allowed to cycle to and from these clubs and can remember feeling a sense of freedom as I managed a small part of my own little lifestyle) and what it means to learn from those older than you and look after those who are younger.
The intergenerational nature of community sports clubs is something which is often overlooked when we talk about their value, but for me, it is one of their most defining features.
To complete today's adventure my highlights have to be riding in to Fowey, back in the eighties this was the home of the Fowey Triathlon (my first 'long distance challenge'), but best of all seeing my Mum (and Dad and sister) along the route…I will reflect more on the importance of physical activity in her life and living with dementia another day, but for now it was Mum who taught me the most important lesson through sport at a very young age…having failed to make the netball team in year 4, my Mum's wise words have stayed with me forever. 'If you turn up to every practice, be helpful, carry the balls, collect the bibs I am sure one day you will get to play.'
Inspired by Ali's efforts? You can donate to support our mission here.
I was lucky enough to benefit from the commitment, inspiration, and dedication of PE teachers like Mrs Feast, Mr Martin and most of all Mrs Hyde and Mrs Furniss.
DAY 2
At the Youth Sport Trust, we believe sport gives us a place to belong…well today I experienced that first-hand.
As our cohort of 24 riders settled into the rhythm of the tour with the daily routine of bike check, eat, ride, repeat, small groups began to emerge. Mile by mile the string of cyclists clustered into small groups based on our speed. It was amazing to watch and amazing to experience, after less than 24 hours a group of strangers became friends and a group of individuals became a team…and by the end of the day those teams started to become families. I chose the term 'family' because that's exactly what I felt was emerging, small communities supporting and caring for each other and at supper this evening, these families were dining together and bonding in a way that went way beyond cycling at the same pace. 
So, in the space of less than two days, cycling has catalyzed our human connection. A disparate and diverse group have been united by the power of sport but, most of all the power of sport to give us a place to belong.
Sadly, in the world today we see so many examples of people not accepting or embracing difference, and for some young people the challenges of face-to-face interaction are huge due to the predominance of digital connectivity and a life lived online. Do you know that young people are now the loneliest group in society? Despite often being surrounded by young people and adults every day, too many of them do not feel they have a place to belong. This was further reinforced to me through a conversation I recently had with our charity's Youth Board who explained to me that while young people have access to a global community, thanks to the internet and the digital age and there are so many role models, influencers and options in terms of 'who they can be', this busy world with so many choices can leave many feeling confused, and more alone than ever.
These are just some of the reasons why the Youth Sport Trust believes the role of play and sport in our families, schools and communities has never been more important. Through our programmes we intentionally focus on the development of interpersonal skills like confidence and communication and qualities such as empathy and compassion. These are the things which make us uniquely human in a digital age. Our Youth Sport Leadership and Inclusion programmes are some of our most successful in helping us equip educators and empower young people. There is no doubt that to thrive, this generation will need its human qualities as computers and technology enables so many other tasks and processes, we have previously relied on people to perform. 
So as day 2 of my adventure draws to a close, I want to thank Steve and Bernie for giving me a place to belong in my new 'LEJOG family', we not only cycled together today, but we made each other laugh, motivated each  other, stopped and waited for one another when needed, and what I loved most of all - we laughed together…a lot #WhenWePLayLifeGetsBetter!
I had woken with heavy legs and to be honest when I saw the hill looming up ahead of us after only the first mile, my heart sank. 
Day 3
Today our route took us from Dartmoor in Devon to Street in Somerset. 
We set off this morning in dry weather for the first time so far which was a joy…but the euphoria was soon broken with a big a brutal moorland climb straight away! I had woken with heavy legs and to be honest when I saw the hill looming up ahead of us after only the first mile, my heart sank. However, once the pedals were turning, the rhythm returned and I think it actually got me off to a good start by flushing out all the toxins that must have built up overnight as my muscles did their best to repair the damage of yesterday.
Once that first hill was out of the way, we enjoyed a few more miles on the moor passing places I recognised from my Duke of Edinburgh's Award expeditions. I will never forget those adventures, or all that I learned from that scheme, particularly my 'service' which saw me volunteer in a residential care home for the elderly in my home town, St. Austell, Tevarna. If it was club sport that started my inter generational education, it was this experience that completed it. I absolutely loved my Sundays when I would spend all day on wing 4, helping the staff with domestic chores and talking with the residents.  Even at this early stage, way before I knew about the benefits of physical activity to ageing, I remember one of the  therapists running 'chairobics' and seeing the impact it had on both energy levels on the wing, but also the laughter and interaction it encouraged.  Interestingly, way after my DofE volunteering, my Mum and Dad both went on to work at Trevarna – Mum was the office manager I think (she certainly did all the financial management using her life's experience working at the bank), and Dad driving the minibus after he retired. We all loved our time there and all learned a lot about life and what an incredible job those who work in health and social care do.
Back on the route, we passed right through the centre of Exeter, almost past the front doors of one of the former Specialist Sports Colleges, St. Luke's C of E School. This gave me a moment's reflection on a wonderful era in school sport when over 500 schools chose to harness every aspect of the power of sport – the context, the skills, the values, and pedagogy – as a tool for school improvement and to raise whole school standards. For a number of years 'sports colleges' as they became known were the fastest improving schools in the English education system (based on GCSE grades, including English and Maths), and were also the hubs of the School Sports Partnership (SSP) network which cascaded the innovation and learning of sports colleges out to every primary, secondary and special school in the country. This really was a golden age and this system was both admired and copied by a number of other countries around the world.  While specialist schools are no more, many of those sports colleges have retained their commitment to sport as a strategic educational tool and over 200 SSP's still remain and work together through a self-led movement we are very proud to work with, The Schools Active Movement.
Day 3 concluded with a long and lovely ride through many winding country lanes and then across the Somerset Levels into Street – a town where I had the privilege of attending Millfield School as a sixth form student (through academic and sport bursary, and a herculean effort by my parents to raise the funds), and then returned as a Head of PE earlier in my career. Riding into the town brought back special memories of two further defining moments in my life. Attending this school was a privilege in every sense of the word, the school was founded by 'Boss Meyer' whose philosophy was to 'nurture talent by providing the very best facilities, teaching, coaching and opportunities in which young people can exercise and explore their abilities; and to give awards to those in financial need.' While not every school can benefit from Millfield's amazing facilities, I have always found those schools which get the very best out of their pupils/students and genuinely unlock their talents, are those led by courageous thinkers who believe in the potential of every child/young-person and this (and this alone) is what drives the culture, climate and curriculum.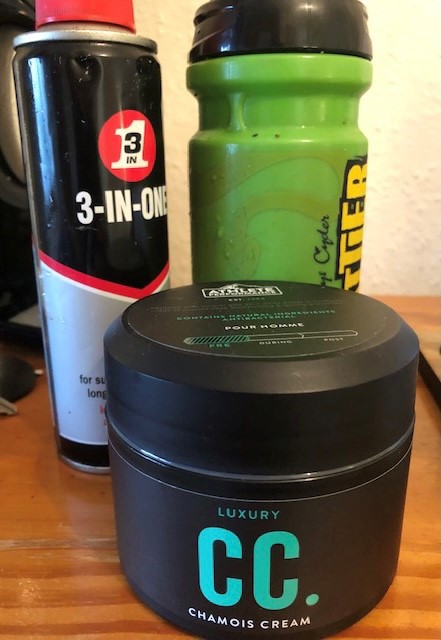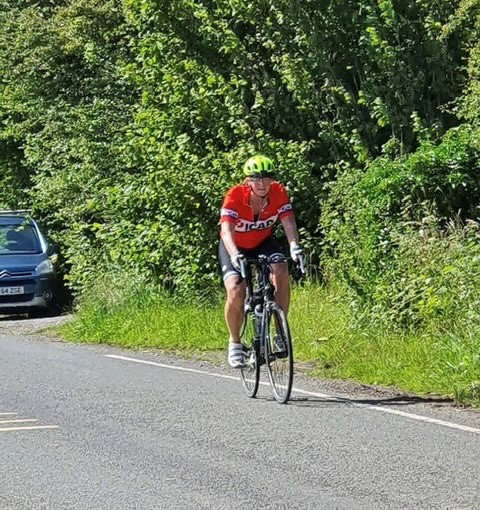 This evening my day finished in a really special way when Mrs. Woods my netball coach (and former Senior Mistress and Assistant Head of Millfield) joined me for a drink in a local pub, where as a sixth former I would have had to have her permission…and even a 'chit' to enter!  Mrs. Woods, alongside Mrs Furniss and Mrs. Hyde (mentioned in my day 1 blog) were my role models and in many ways are why I am doing this ride. They inspired and encouraged me to follow my love of sport into a career and I can't thank them, and all the other incredible (PE) teachers out there for being that champion every young person needs.
DAY 4
Today's ride was the most enjoyable yet – the sun shone, and the route took us through, past or over some amazing, iconic landmarks. 
Only a couple of miles after leaving Street, we entered Glastonbury with its famous Tor - the hill has a long religious history with evidence of Pagan and early Christian settlement on it. While there wasn't time to get off and explore, it was fascinating winding up through the town noticing that all the shops and café's had some sort of link to the Tor, meditation or mindfulness – I even saw one shop front with a sign promising 'Zen Computing'…personally I find computing anything but zen-like! But perhaps that's just me.
Next came the stunning town of Wells. As we passed by the Bishops Palace and around the front of the Cathedral, I was transported back to the day of my Confirmation which took place here; an event that will always hold a special place in my memory. I am not a deeply religious person, but I have always had 'my own form of spirituality' which is manifested in a strong faith and belief in fate.  People who know me will also recognise I also believe in Karma and that good intent and good deeds contribute to good karma and happier lives, while bad intent and bad deeds contribute to bad karma and unhappier lives. With that in mind, I was very conscious of being a good road-user today, and letting others go ahead of me in the 'brew stops'…I really don't want any punctures!  Perhaps you see from these examples how my faith and beliefs work.
From Wells we cycled up and away towards Bristol where the sightseeing continued with a stunning trip across Ashton Court Estate, and a breath-taking ride across the Clifton Suspension Bridge. I have been to Bristol many times and always loved the docks, but I have never really explored the Clifton side of the city which has some of the most incredible architecture, parks, and museums – I can highly recommend it. The country path from the Blaise Museum is a must. The final two legs of the day took us over the old Severn bridge and into Wales, and after a sneaky ice cream stop at Tintern Abbey we followed the beautiful Wye Valley completing stage 4 in Monmouth.
I ended today in a really good state of mind – not only had the constant pedalling left me full of 'feel good hormones' (endorphins), but after 4 days of cycling my body's natural stressors (adrenaline and cortisol) are now at an all-time low. These two chemical reactions come with any amount of physical activity, and are why exercise can improve our mood, reduce anxiety, and create a more optimistic and resilient state of mind. It was John Ratey (the Harvard Neuroscientist) that said, 'At every level, from the microcellular to the psychological, exercise not only wards off the ill effects of chronic stress; it can also reverse them.' What he also tells us is that the co-ordination of the body fires up neural pathways, 'it turns out that moving our muscles produces proteins that travel through the bloodstream and into the brain, where they play pivotal roles in the mechanisms of our highest thought processes.' 
It is for these reasons I believe an active childhood is essential not only to support physical development and mental health, but also in unlocking their cognitive potential. It is also why this ride is inspired by my Mum's condition too. Daily movement and physical activity can be one of the most powerful ways to maintain brain function in the elderly and those suffering from dementia. Mum doesn't need to spend 7 hours in the saddle every day to experience the cognitive benefits of exercise, a short walk is enough and it's amazing the difference that can make.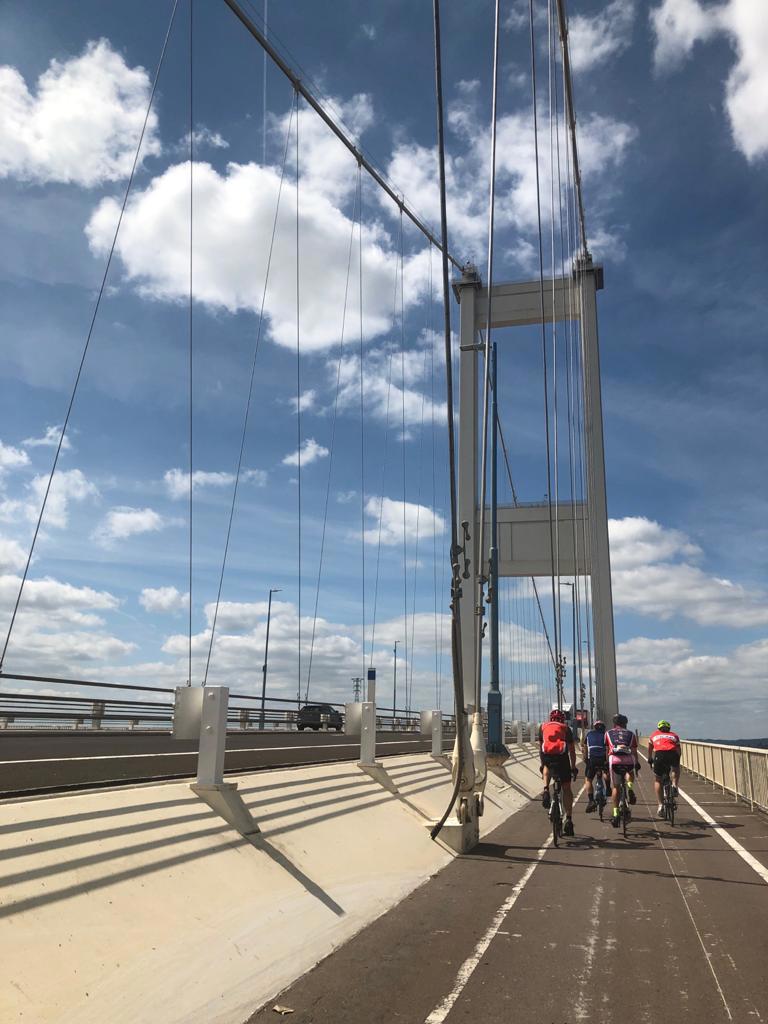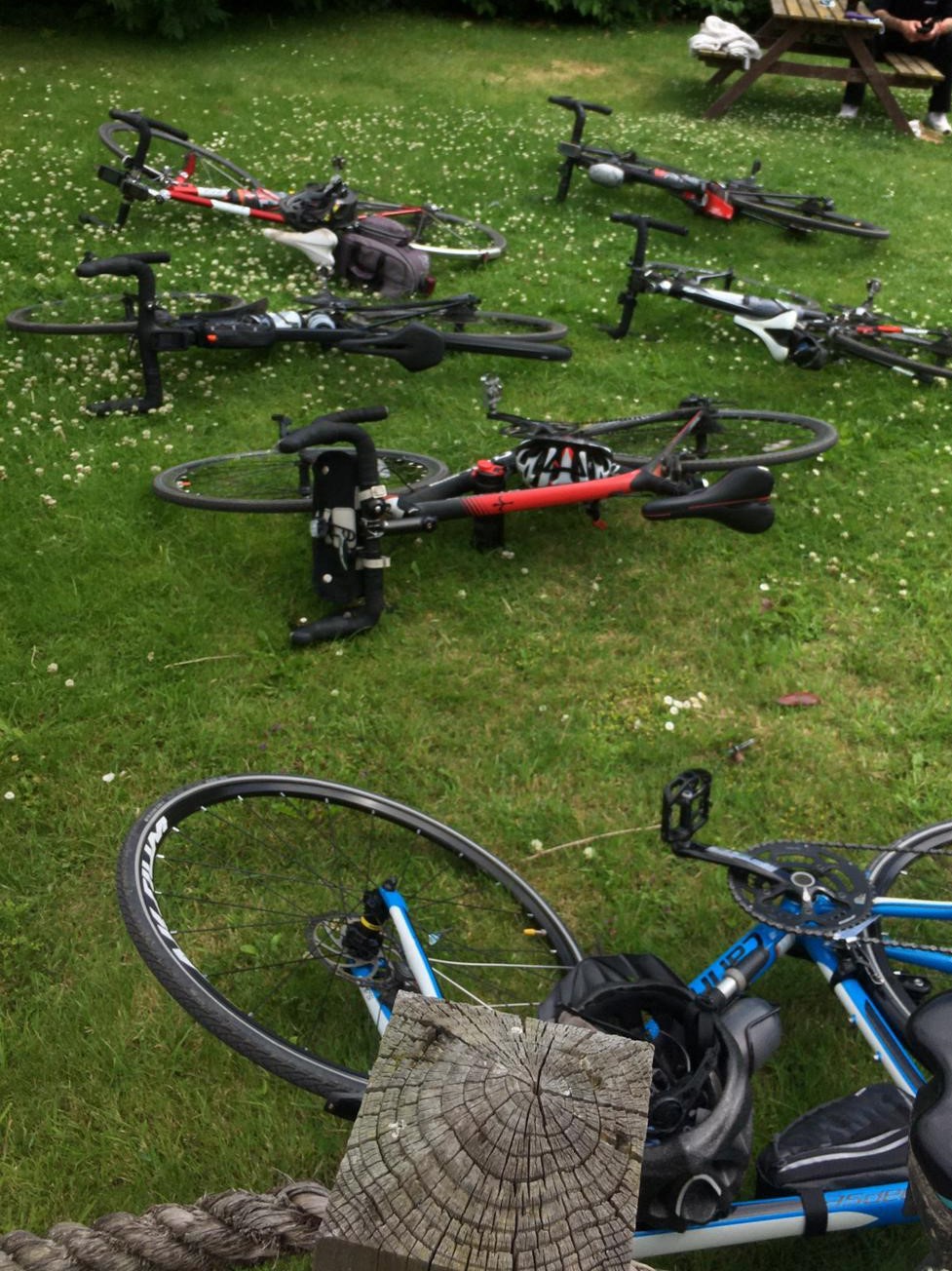 DAY 5
Today was billed as an 'easy day' – only 58 miles and 6 climbs which gave the whole group an opportunity to ease back a bit and try and replenish our energy stores for a harder 80 miles tomorrow. We were lucky as we had the warmth of the sun all day and just enough breeze to keep it comfortable. The route took us from Monmouth through Shrewsbury, passed Leominster and on to Clun. Most of the route today was along narrow country lanes and through some stunning chocolate box villages, alongside rolling hills and countryside. Compared to yesterday, there isn't too much to share about the ride...other than I had a few minor mechanical issues and my first puncture! However, all the way we had Wales on our left and England on our right and I am excited that our LEJOG route is taking in three of the home countries that the Youth Sport Trust works in.
We are really proud to work in partnership with the sports councils of England, Scotland and Wales to deliver our mission and today I used the route and location to reflect on the work we do with SportWales. The Young Ambassador programme was inspired by London winning the rights to host the Olympic and Paralympic Games in 2012. It was designed to bring to life the strapline of the Games, 'Inspire a Generation' and it was built on a 'per leadership model' which ultimately had four levels: Bronze Young Ambassadors (primary age), Silver Young Ambassadors (lower secondary age), Gold Young Ambassadors (upper secondary) and then Platinum Ambassadors - who guided the movement as a whole and were the real 'champions' at a local level. By the time the Games came to London there were more than 10,000 Young Ambassadors across the UK collectively tasked with promoting the values of the Games, sharing the latest breaking news about the Games with young people and of course inspiring participation and helping get their peers active. SportWales embraced the potential of its movement and it remains today, almost a decade on, with every Local Authority benefiting from a team of young activists and activators many of whom now use the context of sport and the leadership skills they have acquired as a Young Ambassador to create the change they would like to see in the world. 
While the Youth Sport Trust is a UK charity, we have a sister charity Youth Sport Trust International (YSTi). YSTi has delivered in 63 countries around the world since it was created - from India to Africa and from China to Brazil. We have a number of international trainers in what we call our 'Learning Academy' but we are also incredibly lucky to benefit from the skills and dedication of an outstanding full time senior trainer Viv Holt who is our Head of International Operations. Viv must spend over 250 days a year overseas and is considered a 'friend' to many of the Ministries and partner organisations we work with around the world. During the pandemic when Viv and the team haven't been able to travel, they have delivered some virtual youth sport leadership training to young people living in the Shatila Refugee camp in Beirut where sport has offered a distraction, and positive development experience for a community of young people facing unimaginable challenges. So far in my blog I have talked about the impact of sport at an individual level but through this work in Shatila, and indeed the international work, we had the opportunity to contribute to as part of the London 2012 international legacy programme, International Inspirations (led by UK Sport, supported by the British Council and UNICEF) it had the aim of enriching the lives of 12 million children and young people of all abilities, in schools and communities in 20 countries across the world. We know sport can drive change at a community and country level too.
This afternoon in the saddle, with fewer hills to concentrate the mind, I reflected on all the lead up and legacy activity London 2012 generated for young people in and through sport and started hatching plans in my head as to how we might celebrate the 10th anniversary of the Games, and most importantly recognise the achievements of some of the generation who were inspired by it, and in particular those who have gone on to inspire others If anyone reading this blog would like to help our charity do something special next year, and perhaps support us in contributing to the legacy of our next major international multi-sport event, Birmingham 2022, we would love to hear from you!
The other aspect of cycling culture that is really wonderful is when you have a mechanical failure, other riders ALWAYS help you.
DAY 6
Today we routed from Clun to Runcorn on the longest cycle of the journey so far – 80 miles.  The first three quarters of the day was through glorious Shropshire countryside and I think I may have found my fourth favourite county (after Cornwall, Devon and Dorset of course!). I had no idea just what a pretty area it is and I will definitely return.  I loved our short venture around Shrewsbury and along its riverside. Into the afternoon we passed the Cheshire border where the houses…or should I say mansions…got bigger and bigger! There were some incredible renovations and magnificent farmsteads. I have always harboured a dream that one day I might be able to build/renovate a property and today I saw one of the design features I would love to have in my house, a wraparound veranda and front porch, with a swing seat on it of course! Do you think I have watched one too many American movies??!
Anyway, back to the riding…the team of Bernie, Steve and I has now become four with Nicholas settling in alongside us. We now have a distinct riding formation – Steve loves to be at the front as he feels he is clear of any lapses of concentration from fellow riders, Nicholas is almost Steve's outrider slightly behind and on his right as he likes to chat and be within conversation distance, I am tucked in behind them…benefitting from the protection they both offer from the wind, and Bernie rather magnificently brings up the rear.  I am learning so much from my fellow riders and although it's not completely authentic for me yet, I am learning the 'language'. As we pedal along there are three main 'calls' –  'clear' (when you cross a junction you let riders behind you know if it's clear to cross), 'pothole' (and there have been loads of them on our trip so far, and my backside knows it…more on that later) and 'car behind' (a heads up about passing traffic, we have had mixed experiences so far of come wonderfully kind and courteous drivers, and some shockers as you can imagine).  The other aspect of cycling culture that is really wonderful is when you have a mechanical failure, other riders ALWAYS help you. Today I had my second puncture, a chain incident and ultimately had to change a whole tyre, none of which did I have to do alone. 
These 'rules of riding' reflect the role sport has in teaching us about life. So far in today's blog I have written about life lessons, but I am also reflecting on the new life skills I am learning too. 
Doing a trip like this requires a lot of personal organisation and as each day passes, I am becoming more regimented with the daily routines. Each night the order of events is the same; stow bike somewhere safe and remove all gadgets and lights for charging, bottles for refilling and check your onboard tool bag to identify what needs replacing in the morning.
Then it's a cold shower/bath and stretch off, followed by washing - not the body…yet…but the kit! As you can imagine shorts, shirts and sometimes even gloves need to be kept clean and I am thrilled with some of the new life skills I have learned on this front…like rolling up wet gear in a towel before hanging up to dry (genius!) and of course Steve's infamous 'hot cupboard'. Hang your wet gear in a wardrobe, turn on the hairdryer, and close the door…voila, one hot cupboard! The final event at the end of the day is of course the real bath/shower followed by the application of multiple creams - sudocrem, chamois cream, and ibuprofen gel being my cocktail of course, never thought I would long for that cocktail more than a mojito! 
In the same way I am learning new lessons and skills on my trip. Our charity uses the context of sport to help young people acquire and practice personal and social skills which they can take with them on their life journey and we are really excited about the impact our My Personal Best programme is having on the delivery and outcomes of Physical Education. This programme of training for teachers helps explicitly and intentionally focus on teaching a set of life skills through the PE curriculum. It helps teachers choose which sports and activity areas to deliver based on particular life skills to be learned, and then how to adapt pedagogy and content to create teachable moments that can be planned into the lesson. Many of you will be familiar with this approach from outdoor education where for decades we have taught children adventurous activities, not only to give them experience of sports like climbing and sailing, but because we use the environment and the activity to teach life skills and lessons – from communication to managing risk. I believe My Personal Best is a really positive step forward for PE at this time – if PE were understood to be about, and recognised as much for its contribution to individual development, wellbeing and character as it is for sporting prowess and accomplishment, then it would be more relevant, meaningful and of greater value to the young person, the school and ultimately the country. Think of a sport, any sport…and I am sure you can think of what life skills and life lesson we could teach through it, and not just how we play it.
DAY 7
Last night, I had the joy of meeting up with Lisa McHendry, one of the YST senior leadership team members. Lisa lives close to where we were staying in Runcorn and so kindly popped across to our hotel for a catch up on all things Youth Sport Trust as well as just some lovely downtime 'outside the LEJOG bubble'. Lisa has done over 20 years' service at the YST and is a stalwart of the charity. She is an outstanding development thinker and now leads on both our Innovation portfolio and our fundraising strategy. As a charity, we are supported by a broad range of funders from people raising sponsorship funds through challenges like LEJOG, through funding from grant giving bodies and Trusts and Foundations, to awards from Lottery distributors. We are also fortunate to be charity partners of several corporates and have been lucky enough to win some local and national government contracts. Like most in the charity sector we must raise the funds to support our mission, but also cover the back-office costs of the organisation. Through this blog I would like to say a personal thanks to Lisa and her team for working so hard on the bids and relationships which are fundamental to helping us do the work we do, and also all those organisations and individuals who have helped the Youth Sport Trust over the years (if you are reading this and would like to find out more about supporting the work of the charity, I would love to hear from you).
So on to today's riding…the midpoint of the route saw us tour the towns of the north west - from Runcorn, through Warrington, past Wigan to Bolton, past Chorley to Blackburn and then over some wonderful hills before descending down in to Lancaster to conclude our first week of cycling – phew! Steve, Bernie, Nicholas, and I settled quickly into our usual riding formation and decided that today's 74 miles would be 'steady'. I was riding on new tyres which gave me a bit of confidence, but as a result of the wheels having come off overnight (not literally of course), my brakes were a bit iffy this morning and we had to stop two or three times to adjust them – yet again I was grateful to my new friends who helped diagnose the problem each time and never moaned once when they got covered in grease and brake dust! As you might imagine that gunge gets everywhere, but never more so than when you are already smothered in sun cream – with temperatures expected to reach the high twenties today we had to take care to protect ourselves from the sun and heat.
Today's riding effectively circled Greater Manchester, and with the start of the Olympic and Paralympic Games only a week away, I was mentally transported to one of the YST events which drives the work the charity does in helping those young people with a talent and a desire to be the very best in sport – the School Games National Finals. This is a major multi-sport, integrated Games for the most talented school age athletes across the UK and the pinnacle of a programme of competitive school sport taking place in every county throughout the year.
This event has been running since 2006, when it was the brainchild of the then Minister for Sport, Richard Caborn and inspired by London winning the rights to host the Olympic & Paralympic Games in 2012. It has been hosted by cities across the UK…but has been staged in Manchester on a number of occasions. The School Games is a DCMS owned event, delivered in partnership with Sport England, the sports councils across Wales, Scotland and Northern Ireland and National Governing Bodies.
The Games are backed by National Lottery Funding and supported by a range of wonderful partners such as UKSport, the British Paralympic Association and UK Anti Doping. While on the surface it looks like a mini Olympic/Paralympic/Commonwealth Games, 'under the hood' it is actually an education programme. I refer to it as the 'school of games', if you aspire to go on and perform at the highest levels there is so much you need to learn, experience and practice before your first major games.  The programme the YST delivers has its origins back in the early 2000s when we established a support package called the Junior Athlete Education Programme (JAE).  The aim of the JAE content, workshops and mentoring was to help young aspiring athletes (from all sports) balance their training, their education and the rest of their life. Today it is still true to those origins but has a contemporary twist with a focus on ethical and moral dilemmas of elite sport and the importance of athlete wellbeing.
While my LEJOG adventure is about as far as you can get from the School Games National Finals, the essence of competition still features – I am competing against the hills, the distance and of course myself. Sadly, competition is too often viewed as being about the podium alone and as a result it can be a polarising concept in youth sport. While some competitions are defined by the colour of the medal, and we will see this next week in Tokyo of course, we shouldn't confuse competition with ONLY this. Amazing things happen when we strive to be our best, rather than the best.
So, this evening my Garmin is showing 490 miles which means we are virtually halfway. Looking back to our arrival in St Just near Land's End just one week ago, it does feel as though we have come a long way…. both in terms of our physical journey but also our social and emotional journey. I can't wait to see what I will learn in the week ahead and the second week of this amazing adventure, and most of all, just what MY best might be!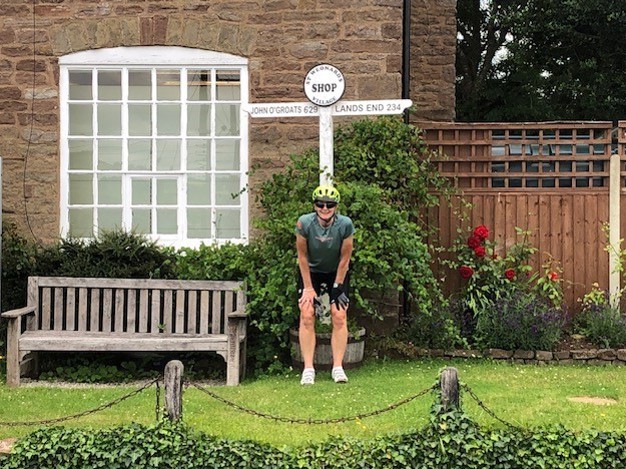 DAY 8
Well, today it happened…I hit a bit of a wall for the first time! Two days riding in over 25 degrees heat, plus the repeated short but very steep climbs as we passed into Cumbria, seem to have sapped my body of energy. By this afternoon I just had to grit my teeth and concentrate on turning the pedals with some sort of rhythm. The ride from Lancaster to Penrith was breath-taking in every sense of those words! The scenery as we went up and up got more and more beautiful with the mountains of the Lake District in the distance, and at the same time my heart and breathing rates soared! 
The lesson I learned from sport today is that hard work never ends - you work hard up the hills in the hope of seeing the fruits of your labours on the descents. However today what became clear is that this is a never-ending cycle (literally!), once one hill is behind you, there is another, and then another, and again, another. After a while I started resenting the downhills, as they felt like the undoing of all my hard work. At one point I even found myself shouting at the road to stop slipping away in front of me when I had struggled so much to get up the hill in the first place. Yet again the experiences I am going through on this ride are a reflection of life – the ups and downs go hand in hand, without the highs we perhaps wouldn't experience the lows, the bad times don't go on forever and nor do the good times, but even more important than that…don't stop yourself enjoying those good times in fear of the bad times to come. 
This is a trait I am learning about in myself – if something is good, then it's probably too good, and if something isn't good…something else I did probably caused it. I know since Mum's dementia diagnosis I have carried a constant guilt and I wonder if I were with her more often (alongside my incredible Dad and amazing sister), would that help? Even when I am with Mum, I can spend wasted time worrying about what might come next rather than just enjoying being in that moment with her. 
Mum is at her best 'in the moment' and there is nothing she loves more than listening to music from her childhood – it unlocks her memory in a way little else can, and it is the most wonderful thing to see her lips mouthing the lyrics and the smile on her face as she remembers a time and a place.
The other thing that can bring back memories for her is talking about sport…Mum and her father, my Grandad, were Luton Town supporters when she was a girl, and even today she will recount the trips she made after school to the 'Milk Bar' in the town where the players used to hang out after training, hopeful that one of them might say hello or sign an autograph! 
Through this blog I have shared with you a number of programmes delivered by the Youth Sport Trust, and one of our most recent projects is entitled Active Across Ages. It sees young people, some of them isolated or lonely themselves, trained in sports leadership to then go into care facilities or homes to support activity and play with the residents. Often, it's the case that the young people introduce a sport like Boccia, and in turn the elderly teach the young people a playground or street game they used to play when they were younger. As you can imagine not only do the young people inspire activity and engagement in the elderly, but the older participants often have a brilliant way of enabling young people to feel better about themselves and their lives. Best of all, we have seen some wonderfully unexpected friendships and camaraderie emerge. Just like my route today, Active Across Ages reminds us of the ups and downs of life, and even when we are facing some of our toughest challenges, there is light but as the saying goes, we just have to look for it.
With this in mind, as I go through my routine of reviewing tomorrow's route before bed, I am going to take a different approach this evening - I usually focus on (and even count) the number of red sections of the profile (the steepest uphill sections) but tonight I am only going to focus on the green ones (the descents) and then visualise just how much fun it's going to be whizzing down them.
DAY 9
We reached a significant milestone on our journey today, passing over the border to Scotland at Gretna Green. Despite my growing anxiety about the highlands, today didn't include too many big climbs which was a blessing given the high temperatures once again! However, my fellow riders, buoyed by the prospect of getting this far north, set a blistering pace and we upped our average of c. 12/13 mph to over 14. I just about managed to hang on to the pack but am now more than a little concerned about the toll this will have taken on my legs. Tonight, I will try all the tricks…cold shower, ibuprofen massage and even the latest tip doing the rounds in the group… lying on my back with my legs vertical against the wall! 
Fortunately, I am being well looked after and every day when we arrive at our B&B or guest house, I find a package on my bed containing lots of little items to keep my spirits (and energy levels) up.  Each parcel has been lovingly put together by my sister Ren and then sent from her, Mum and Dad to each of my stopping points along the route – they have contained a whole variety of special gifts from sweets Ren and I used to love as children, to 'Deep Heat' patches (one of which is doing its thing on my lower back as I write), to bath salts and glucose tablets. These tablets I haven't seen in at least 35 years! I remember as a young teenager having a 'boot bag' which I carried my running spikes in (not sure if this will mean anything to you, but back in the day they were all the rage in the athletics club), and in that bag I remember meticulously packing my spike spanner, a wristlet, and a packet of glucose tablets. Today while the contents of my cycling day bag (which travels in the van that meets us at every check point) is slightly different, this trip is showing that old habits die hard as I repack it every morning, ticking off each item.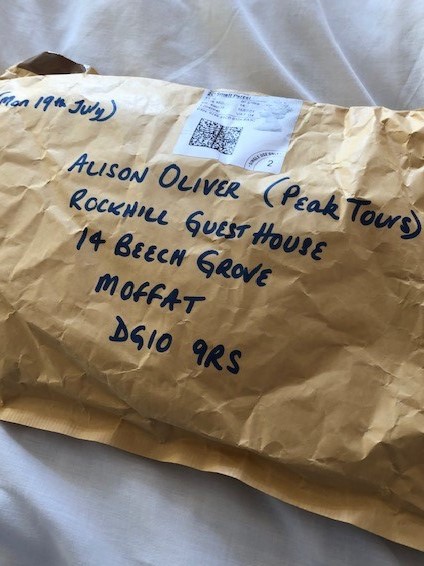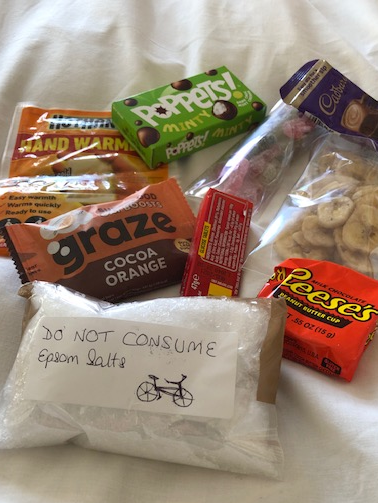 A couple of days ago I reflected on the School Games National Finals and the role the Youth Sport Trust plays in organising and delivering the education programme to the competitors – that programme is based on a programme we established back in the early 2000's called JAE (Junior Athlete Education). JAE included a series of workshops, and materials designed to help young people aspiring to excellence to manage their sporting career, education, and lifestyle. One of the cornerstones of the programme was a principle called 'Team You'. Team You refers to a group of people that support and surround you and help you achieve your ambitions, each playing a different but important role. Three of the key roles in Team You are your parents/carers, your coach, and your teacher/school. As you can imagine, for a young athlete recognising, and then maximising the skills and abilities each of these individuals have to support them on their journey and keep everything in balance is really important. Today, while I have been puffing, panting and trying to hang on to the back of my little cycling group of Bernie, Steve and Nicholas, longing for the next brew stop when the team from Peak Tours will be waiting for us in a small gazebo beside the road with tea and jelly babies and wondering what goodies will be in my 'care package' today, I have realised I have my very own LEJOG Team You, without whom I couldn't do this.
In all honesty, I don't think only athletes and participants in personal challenges need a Team You – we all do. While the JAE programme was designed by the YST to help young people with a gift or talent to fulfil their potential, it's principles and Team You can be translated into a concept all young people can use to help them navigate the challenges and opportunities of their life as it unfolds. And so once again this is a reminder that not only playing sport, but harnessing its context and skills can help us in so many ways.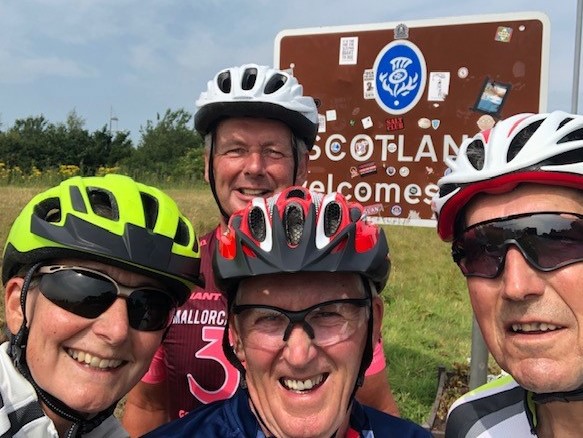 We began our morning with a seven mile climb out of Moffatt and all the way up my inner voice was questioning, 'will I make it?'
DAY 10
So…you may be wanting to know whether all the various 'cool down' routines I went through yesterday worked…well, maybe a little! There is no doubt I can feel the 600 plus miles in my legs now, but it's amazing you know. Once you are back in the saddle by day 10, it's almost like your body knows what to do and it just 'restarts'. The first few turns of the pedals are always a bit of a worry as it feels like your legs have already mounted a stair case of 100 steps, but then after 400 yards or so, you get some oxygen on board and gradually the engine starts to work properly.
I have always been amazed by the human body and what it is capable of – some of you may know a few amazing 'friends of the YST' who have shown us just what's possible! Ben Smith (a YST Ambassador) and his incredible 401 marathons in 401 days, and Guin Batten (a former YST Head of Sport) with her awe inspiring row across the Atlantic in 49 days aboard 'Liberty' (I always thought that was a wonderful name for the boat that would take the all-female crew across such a huge ocean). While my endeavour isn't in this class, I am still astonished that I have been able to ride between 68 and 83 miles a day for 10 days now, without having rode that far since about 2017! I have done a lot of running over lockdown which must have helped a bit with my base fitness, but as I was told a few days before I came away by Helen (YST's Head of HR who is a great walker), 'you will ride into your fitness'. And it seems that's true… although I definitely don't want to speak too soon as for the next two days we head into the Cairngorms and I know there are some very serious challenges ahead for my body.
In this blog I have written about a number of ways in which exercise, play and sport can improve our health and wellbeing, however, most of the reflections thus far have been on our mental health and social development as human beings. Looking back on day 10 of my tour, it is my physical fitness that I thought about most while I was in the saddle today. We began our morning with a seven mile climb out of Moffatt and all the way up my inner voice was questioning, 'will I make it?'
Thankfully I found a rhythm, kept my eyes on the rider in front of me, and just pushed and pulled the pedals until we reached the summit. 
From here we cycle the longest day on the route, 84 miles taking in the beautiful city of Edinburgh and a windy crossing of the Forth Road bridge to end up in Kinross. We were in the saddle for just under seven hours today, riding in four sections, and my ageing (and aching) body made it!
I know each day we ride I am getting fitter and stronger, but the challenge is of course, whether I can hang on to the gains I have made when I return to what has become a fairly sedentary lifestyle. We are now living in an age where movement has been engineered out of so much to make life easier and more convenient for us (cars, remote controls, drive through's, electric scooters etc etc), not to mention the hours and hours many of us spend sitting at a computer.
These are challenges facing us all today, but the impact of sedentary behaviour on children is huge.  Sadly, we know that children are suffering from all sorts of conditions and illnesses which have previously been associated with adult populations such as heart disease, obesity, and type II diabetes. As you will be aware from my previous blogs, I am passionate about the role of play and movement in our cognitive, emotional and social development, but at its most basic level, inactivity is literally sucking the life and physical health out of our children. The Chief Medical Officer recommends that children under 5 do 180 minutes of physical activity a day and for 5 to 16-year-olds this is an average of 60 active minutes a day. The latest Sport England Active Lives Survey reveals that fewer than half of all children and young people in the UK, 44.9%, are meeting these guidelines and 31.3% of children are doing less than 30 minutes of activity a day. And a Youth Sport Trust survey commissioned earlier this year revealed that only 38% of parents are aware of this target and it is as concerning that 44% believe the target is 30 minutes or less. I really do believe this ought to be a huge matter of public concern and so I ask you to champion the Chief Medical Officer guidance with anyone and everyone you know. While there are many real barriers today to moving more, ignorance isn't one that we can allow to get in the way of a happy and healthy childhood. Onward and upward…tomorrow we start our assault on the Cairngorms!
DAY 11
Today included a number of amusing incidents and the biggest hill so far! Picture this…I am part way up a climb, clipped in (which always makes it a challenge to stop on an incline) when a bug of some description flies in through one of the vents in my helmet. What follows is a few hundred yards of shaking my head vigorously, banging my helmet and shouting at the aforementioned bug…none of which helps at all and I had to wait until the road leveled off to remove  my helmet and free the little blighter! We were also chased by a dog and shouted at a lot by Scottish drivers (who must be sick of groups of cyclists making their way to John O'Groats!).
Anyway, as mentioned yesterday we moved into the Cairngorms today and rode along the The Cairnwell Pass - a mountain pass on the A93 road between Glenshee and Braemar. The Cairnwell Pass is the highest main road in the United Kingdom, reaching an altitude of 670m (2199 ft).  We completed the climb just after lunch in searing early afternoon heat, and I was relieved to have it behind me. I did make it up without stopping…but only just. So far, I haven't had to push the bike up any hills, however, tomorrow our route includes the legendary Lecht which has been repeatedly referenced by my fellow cyclists since day one. The Lecht goes from Cockbridge to the ski resort of Lecht, and the climb includes hair-pin bends and a steep section which is over 20% in places…I have resigned myself to the fact I won't make it to John O'Groats without having to dismount at least once on this one!!
Today we also passed the Queens Summer residence, Balmoral and riding through the public areas of her estate I felt as though I was actually in one of the scenes from the series 'The Crown'! Her Majesty wasn't in residence but none-the-less, today did have an air of Royalty about it and we all rode with a little more deference to the passing traffic – even if it came a little too close! We are now in Ballater which is a lovely village that is definitely worthy of a visit again…but only if you have good bug cream. Not only was there the helmet incident this morning, but I now have at least 10 big red midge bites on my arms and legs.
One of the best bits about today's ride (if the highest road in the UK and the Queen's estate aren't enough) was the fact that the group cycled much closer together and we were able to enjoy the company of fellow riders who we have seen very little of since day 2. As you can imagine the small teams or families of riders that have formed over the past week and a half all cycle at different speeds, which means from breakfast to supper our paths often don't cross. There can be 2 – 3 hours difference between those cycling at the front and those at the back of the pack. 
Today, we all started the ride at different times which brought us all a lot closer together and the camaraderie was greater than ever as we had the opportunity to ride with different people at different times. With a little imagination and consideration, it is possible to differentiate sport and physical activity so that it is an inclusive and accessible experience for everyone.
In fact, I have seen all four elements of the STEP principle (which we apply to all Youth Sport Trust training and interventions) here on this LEJOG trip.
STEP stands for Space, Task, Equipment, People. So, we know that on our final day, those who ride at the gentlest pace will be starting the last leg 15 miles closer to John O' Groats than those who 'race' – in this was they are manipulating the 'space' involved; it is absolutely permissible to push your bike up a hill, stop mid climb for a rest, plod up or even do it against the clock – and so we are all doing the 'task' in a slightly different way; the 'equipment' is probably the most obvious differentiator on this trip with different bikes, gearing and even an electric bike being used by one of the older members of the group who fell on his last tour breaking his hip; and finally, the 'people' we ride with make all the difference – buddying up with people of a similar ability is a great way to find belonging in an activity (as I have mentioned before), but also at times, we may all want to stretch and challenge ourselves and ride alongside those who are fitter or more experienced riders.
The STEP principle is just one of the 'tools' we embrace at the YST to enable all young people to participate and enjoy Physical Education and Sport. Since 1995 our TOPSportsability programme has trained thousands and thousands of teachers, coaches, and volunteers. We have also been privileged to support the Activity Alliance in the delivery of their Inclusive PE training, and most recently the DFE has supported us through support of 'Inclusion 2020'.
Inclusion 2020 built a mutually supportive community of schools and partners all working together to support high quality accessible PE and school sport for young disabled children and those with special educational needs. Akin to the Specialist Sports Colleges movement and the School Sport Partnerships network, this is another self-improving community anchored by an amazing national network of Lead Inclusion Schools which pioneer best practice and drive professional development and support at a local level. I would like to take this opportunity to recognise the amazing work done by Vicci Wells, our current Inclusion lead at the YST and Ken Black, for a lifetime's work on this agenda. 
Sadly, too often sport is known for characteristics which make it 'exclusive' and accessible to only those who are 'sporty', however,  just like the LEJOG group I am currently riding with, every single young person is different and has a different level of ability, ambition or motivation and every single one is entitled to take part and enjoy the benefits that come from physical activity and sport. 
Thank goodness that with training, advice and most importantly, an inclusive mindset we can ensure that ALL children get their right to play.
DAY 12
Today was all about the hills! Our first 17-mile section took in four big ones even before we got to the bottom of the 'Lecht' but that was the beast it had been described as! The first section literally was like a wall and then there was a horrible 'false summit' after which there was a further 1.5 miles of gradual incline punctuated by steep elevations. As I mentioned yesterday, this climb had been the talk of the group since the start of the tour, but in the last 24 hours it felt as though it were hanging over me and haunting me…
Throughout this journey I have been using a Garmin 820 to help with all the navigation. While the guides publish a route, between brew stops and lunch, you are on your own and need to be able to find your way from road to lane, from lane to cycle path and from cycle path to tow path in some cases. While I am not technologically minded, I have to say this device has been absolutely brilliant and as well as telling me the way, has provided a range of feedback which has motivated and supported me along the route. First of all, my texts come through on the screen…with friends, colleagues and family all sending little messages of moral support, these popping up randomly throughout the ride has been a huge boost. Secondly, it breaks the route down into five mile stages which not only gives a sense of accomplishment as you pass each milestone (you can imagine how good it felt when we passed the 170th five mile split yesterday). But thirdly, and the function I have come to rely on the most (apart from the obvious navigation) is the 'climb function'.
At the start of the day, this tells you how many climbs there are in the ride and ticks them off as you go…brilliant motivation! In addition, it reveals the profile of the climb at the bottom, so you know how steep each section is and how long it is in total. Some might find this off putting (granted knowing you have four miles of climbing at between 7 – 13% can be a bit daunting) but for me, it has been exactly the information I need to pace myself and push myself onward and upward.
My relationship with technology is a turbulent one (as the amazing IT team of Mark and Chris at the YST will tell you). 
As I have described above, digital technology can facilitate so many amazing things and can be a real aid to activity as my reflections above illustrate. However, access to social media networks for young people is something I would most definitely put into room 101!
Time and time again at the YST we hear horror stories of bullying, and emotional and mental health issues created or amplified by issues that arise online. I see children of all ages who have become hostages to their hand-held devices (and some adults too), who are missing out on so much of their lives because they are so distracted by what's happening online, they are missing out on the fun, friendship and freedom of life offline.
And, at worst I feel we have sleep-walked into a situation where young people are exposed to information and imagery that isn't appropriate for their age and stage of development, and they simply don't have the experience or context to handle it appropriately. Of course, add to this the popularity of gaming among children and young people, and again we have a lethal cocktail with really worrying implications for their health and wellbeing. A reality check for us all perhaps is that when young people hear the terms 'play' and 'game' the majority interpret this as the virtual experience, indeed during the recent Euro's we again heard children saying let's go outside and play 'FIFA' (i.e. the computer game not the real game). 
I know that hundreds of businesses and individuals are working hard to find a healthy and positive way to embrace the most appealing and addictive elements of social media and gaming into physical activity and sport, however, despite my enjoyment of the application of tech on this ride…I would still prefer young people found fun and enjoyment outdoors, feeling the pure joy of movement and most of all enjoying real human connection through play.
Anyway, with the help of the Garmin, I did make it up the Lecht without stopping or getting off and, as is the wonderful thing about sport, I had the most awesome high (in both senses of the word) when I got to the ski lift station at the top. That high fueled me for the remaining 55 miles of the day which was filled with awe inspiring scenery through the mountains and then down towards the stunning Moray Firth and Inverness…in fact I think the achievement will stay with me forever.
Our penultimate ride was a quieter day in the saddle - I think everyone was in a reflective mood.
DAY 13
Our penultimate day began in thick cold mist which was a pleasant contrast to the 25 degrees + heat we have been experiencing for most of the tour so far. We donned jackets for the first time in well over a week and the sunglasses were swapped for clear cycling glasses…and off we set! Today's route took us from Inverness up to the Crask. We started along a really beautiful flat section as we followed the estuary away from the city – we were back near the water and the smell of seaweed that hung in the air and the shrieks of the seagulls again made me feel at home, even though we were anything but near my home on the south coast! The riding was unexpectedly stunning today as we climbed up and freewheeled down some more gentle and rolling hills and on route passed some amazing white water, including a section where we were lucky enough to see salmon leaping up stream – quite a sight! We passed lochs and pedalled through small villages, and all the time had stunning mountains (thankfully) in the distance!
Our penultimate ride was a quieter day in the saddle - I think everyone was in a reflective mood, both in anticipation of reaching our goal tomorrow and perhaps a little regretful that the lifestyle, the cycling bubble and the new found friendships and connection would soon be coming to an end. I too was lost in thought quite a bit today and experienced a very special sense of calm.
I am not sure whether you will be familiar with the 'five ways to wellbeing', but over the past two weeks I realise I have unconsciously been benefitting from them all. One of the most obvious of the 'ways' is to stay active, which of course has been an essential ingredient of the tour, as has connection with my cycling group of Steve, Bernie and Nicholas who have now become friends. After so much isolation and virtual conversation, I have benefitted enormously from the companionship and humanity that I have experienced throughout my time with the whole group. Taking notice is another of the 'ways to wellbeing' and this is something I have had time and headspace to do during the ride – it's amazing how looking up and around you, taking in the wonders of the natural environment and talking to the wildlife can make you feel alive and at peace. Learning also helps us experience positive wellbeing and boy have I been learning every day – bike maintenance, navigation and how best to look after my backside! And finally, giving back can be one of the most powerful ways of making us feel positive.
As members of a community and society as a whole, making a contribution is something we are hardwired to do so realising our potential to help others or make a difference in this world feeds a natural drive and takes us a step closer to Maslow's self-actualisation. This giving back has been evident on every day of our trip as riders have worked for each other, whether that's sitting at the front and taking the wind for those behind, or stopping to help repair a puncture, however, on a higher level too this trip will differ to others. Collectively, our group will raise around £30,000 for good causes from Cancer Research to Centrepoint, and Action Medical Research to Red Balloon Learner. Beneficiaries will include young people and former servicemen and women helping them get into work and one particularly moving story is of a Headteacher on our trip raising funds to create a memorial garden to remember a teaching assistant and former colleague. This trip is a wonderful example of the hundreds of thousands of sporting events and challenges which raise millions each year for good causes around the world. So when I use my hashtag #WhenWePlayLifeGetsBetter, this isn't just about our personal health, wellbeing, skills and experiences and the many themes I have reflected in this blog over the last 2 weeks, but every level right up to the global community.
In 2020, the Youth Sport Trust brought forward the launch of its Well School movement in response to the COVID-19 pandemic and its consequences for young people and education as a whole. The five ways to wellbeing sit at the heart of the Well School movement which is built on three pillars: Well Led (championing the importance of wellbeing across the school workforce), Well Equipped (advocating a curricular and co-curricular programme which meets the needs of all young people and gives them the social and cultural capital needed to thrive in the future) and Well Prepared (emphasising the importance of physical/health literacy in a child's education for life). If you would like to know more about this movement please visit www.well-schools.org where you will find further information along with examples of how schools committed to this ethos are building a culture and climate which creates 'well beings'. Heading into the final day of this incredible adventure I can honestly say I feel a 'well being' thanks to the immense power of sport. 
DAY 14
After 1,018 miles, 58,500 feet climbed at an average speed of 14 mph, and with only 2 punctures – we arrived at John O'Groats today. We made it!
The last day's riding was absolutely stunning and despite a vicious and persistent Easterly wind that blew against us for the final 35 miles, I absolutely loved every minute. The first 30 miles took us from the Crask to Bettyhill - we rode along gently undulating lanes, alongside lochs, and beside glacial streams. Then from Bettyhill all the way to John O'Groats we had the north Atlantic on our left, passing through bay after bay of what appeared (from the road) to be white sand and turquoise sea…just stunning. I am not sure if it was because it was the last day, but today was definitely the one that will stay in my memory for the longest – I honestly can't imagine a more stunning place to cycle.
The team of Bernie, Steve, Nicholas, and I cycled in our usual formation right to the end of the trip and finishing alongside them was all the more special. As is often the case in sport, we have experienced so many things together which will always give us a unique connection. I don't think I have mentioned it previously, but Steve is a former speedway rider, and during the trip he spoke many times about how these two weeks reminded him of being 'on the circuit', travelling as a team, and enjoying the camaraderie that builds 'on tour'. I too can remember that feeling vividly from my netball playing days, and even now in the context of the YST's work in school sport… the belief and feelings associated with 'getting on the minibus' and 'wearing the school strip' should never be underestimated. It's one of the reasons why I love school pledges or commitments which include, 'representing the school' in the 'things every child will experience'. Not only does this offer young people the opportunity to experience new places, different children and other schools/venues, but also a sense of pride, responsibility and belonging – let's keep making sure school sport is inclusive and educational and gives more young people this experience, not just more experiences to the same young people.
Given all I have written about over the past 14 days, it feels appropriate that I finish my LEJOG expedition and this blog as the Tokyo Olympic and Paralympic Games begin. 
With the origins of the Olympics in ancient Greece, the Games were built around classical principles such as kalokagathia (balance & harmony of body and mind), arete (excellence in courage strength and virtue), isonomia (fairness and equality), and kleos (honour).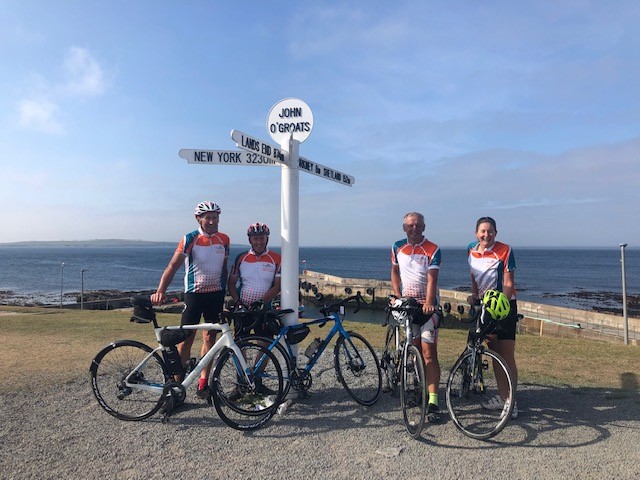 It is also a wonderful coincidence that the modern Olympic Games was re-ignited by Baron Pierre de Coubertin whose vision was influenced by pioneer headteachers in British schools championing the value of sport at the heart of education, alongside the thinking of William Penny Brookes, a trained physician, who believed the best way to prevent illness was through physical activity. I do hope that one day, more people will understand how to harness it's power as a force for good on a personal level and within our families, and in a policy context we fully embrace its value and contribution to education, health, the economy, as well as community and international development.
Sadly, I am now coming to the end of my adventure and this blog series. Thank you for taking the time to read my daily diary, and I hope my musings have reinforced to you why staying active is so important to our health, happiness and wellbeing. There is no doubt in my mind that we get the very best out of ourselves and each other by keeping moving, and when we play, life gets better! I wanted this journey to be more than just a cycle ride, I wanted it to be an opportunity to reflect on the many ways sport can change and improve our lives – young lives, old lives and those in between, and to celebrate all that fulfils me in work and play.
"The master in the art of living makes little distinction between his work and his play, his labour and his leisure, his mind and his body, his information and his recreation, his love and his religion. He hardly knows which is which. He simply pursues his vision of excellence at whatever he does leaving others to decide whether he is working or playing."
(James A. Michener)
I would like to dedicate this ride to my Mum and Dad, whose courage and love teaches and inspires me every day, and to the incredible staff and partners of the Youth Sport Trust who work so hard to build brighter futures through the power of sport.
To find out more about the Youth Sport Trust and how we have been supporting young people and educators over the last 25 years, take a look around our website. If you would like to support our work please contact [email protected].
The work we do simply would not be possible without our generous supporters. If you would like to make a donation to our charity you can do so here.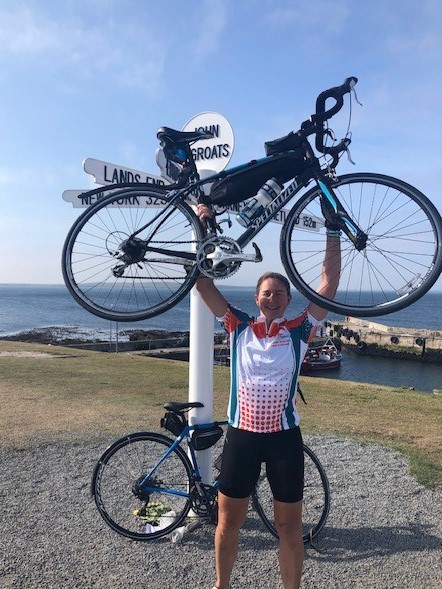 Published on 12 July 2021