Sport gives young people a platform to have their voice heard and a place to feel they belong. We harness this extraordinary power to change young lives today and help them build a brighter tomorrow.
We do this by:



Five big issues we are working to tackle
Only 45% of young people are meeting the Chief Medical Officer guidelines of taking part in sport and physical activity for an average of 60 minutes or more every day (Sport England, 2021)
The UK ranked lowest out of 24 European countries for the proportion of 15 year olds with high life satisfaction (PISA, 2018)
One in seven children are obese by the time they start school, increasing to one in four by year six (NHS, 2021)
38% of teachers said their PE provision has declined because core subjects have been given additional time (Youth Sport Trust, 2018)
One in six children have a probable mental disorder (NHS Digital, 2020).
We are a leading source of PE and youth sport news, insight and opinion. Click below to find out more.
In 2022 we launched our new strategy, Inspiring changemakers, building belonging, in which we set out our mission up until 2035: Starting locally and building momentum, we will galvanise and inspire changemakers to transform attitudes, improve practice and drive policy change. Together we will harness the power of play and sport to build belonging for a generation, improving their health, fostering inclusion and developing character and leadership.
This strategy has three objectives. By taking urgent action now to build back healthier, happier, more resilient young people, we will establish an evidence base to drive a generational shift and ultimately achieve societal change by 2035.
To deliver this strategy we have identified six key groups of changemakers and how they are best placed to help build belonging: Educators, Young people, Organisations, Influencers in public life, Families, and Ourselves. These groups form the basis for our six strategy tactics.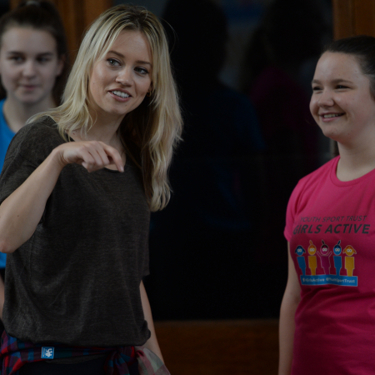 Be courageous and tackle big issues
Take responsibility for what needs to be done
Act with integrity in everything we do
Place inclusion at our heart
Grow through collaboration
Earn trust through our actions.
Our values are lived out by our people. Click below to find out more.
As COVID-19 continues to have an impact across society, we believe that sport and PE have a central role to play in improving the health and happiness of young people, and in tacking disadvantage and inequality.
During the 2021/22 academic year we have given:
237,981 young people the opportunity to enjoy the life-changing benefits of sport and play through our programmes
86,897 young people training to become young leaders to their peers
13,203 teachers, coaches and practitioners training to lead good quality inclusive sport and Physical Education.
For young people, as a result of being involved with us:
71% of young people reported improvements in their confidence in taking part in physical activity
71% reported improvements in their communication skills
85% believed their leadership skills had improved
72% felt that their resilience had improved
76% reported improvements in their team working skills
71% reported their self-belief had improved.