ACTIONS
Inclusion 2024 Live: 23-27 January 2023
Back by popular demand, 'Inclusion 2024 Live' is coming this January.
The aim of the week is to provide live virtual CPD content for as many practitioners as possible to develop greater knowledge, competence and confidence to provide meaningful and inclusive opportunities for young people with SEND. The week will involve live sessions, delivered by expert practitioners and young people, every day from the 23–27 January with the sessions available to watch both live and recorded.
With the support of the lead inclusion school network and Inclusion 2024 stakeholders, we hope to spread the word of this fantastic opportunity to as many practitioners as possible. Our ask to you is to share the word of this amazing week of free CPD to your networks. We have put together a toolkit for you to help promote the week; the template includes suggested email text, social media posts and graphics.
We cannot wait to showcase the amazing line up of talks we have during the week.
To register and find out more, please follow this link. 
FA Shooting Stars SEND training: Wednesday 01 February, 3.30 – 5.00pm
Please register for the training related to the FA Shooting Stars SEND clubs, which is part of your core inclusion role this year. Our very own Niamh Mourton will be working with the FA to ensure the training is fit for purpose for our Lead Inclusion Schools and your wider networks. Hard copy resources are currently being signed off by Disney, so we're hoping to get these out to you this month.
Please use this registration link to sign up for the training. 
Zoom links for the session will follow closer to the training day once you have registered for the event.
YST Conference 2023: Thursday 02 March - The power of PE, sport and play to improve mental health
Our annual Conference, taking place on 02 March in Telford, is THE calendar event of the year for anyone working in school leadership, wellbeing, personal development, physical education, and school sport.
We will be joined by an array of inspirational speakers and workshop facilitators as we use the day to focus on the current mental health crisis that is impacting our young people.
Amongst other expert speakers, we are proud to welcome:
• Arshay Cooper, author of A most Beautiful Thing - The true story of America's first all-black high school rowing Team
• Zach Weston, clinician, educator and entrepreneur who will be discussing the Canadian 24 hour movement model
As part of the conference programme there will be a closed session for Lead Inclusion Schools. This is an opportunity to connect with your fellow lead schools, time to network and hear more about the direction of where the networks are evolving.
As a valued partner I am pleased to let you know that your place at the Conference is fully funded by Youth Sport Trust. To reserve your free place please visit the main conference booking link – and choose the 'Standard Conference ticket' option on the booking system and use the code YST23Lead.
To help you book your place we have created a booking system user guide. Please remember to select the Networking Lead Schools session when booking your place.
You will be required to book your own accommodation – please see this list of local hotels.
We look forward to seeing you there but if you have any questions in the meantime, please feel free to get in touch [email protected].
UPDATES
Inclusive Youth Leadership
This is a reminder that all inclusive youth leadership events need to be completed by the end of March. All schools should have their allocated athlete mentors now, and all resources for the event can be found on the inclusion schools Microsoft Teams Channel.
If you have any issues or questions, please contact Roshni.
School Programme Reporting
Thank you for completing the programme reporting in time for us to pull through all of the great work you were doing in the first term of the academic year.
Below is a summary of some of the impact you have already achieved together:
226 CPD events delivered
46 Inclusive Youth Leadership events delivered
318 SGOs have been supported
78 SGO meetings attended
68 meetings attended with Barclays FA GFSP
103 schools engaged in Inclusive Sport Programme.
School Payments
All Lead Inclusion Schools should have now received the first half of their schools payment; we are sorry that the money was sent out later than anticipated. If you would like a breakdown of the payments you have received, please contact Rebecca Tyers.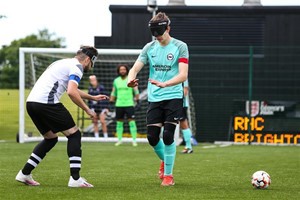 This newly designed programme helps schools to engage more visually impaired and blind young people in football alongside their sighted peers, to enable them to have a positive experience of competition. Schools can receive access to free equipment, training and resources to be able to deliver the project.
Register your interest to find out more about the project and share the link wider to schools you think may be interested.
Neurodiversity CPD
A free webinar hosted by ADHD Foundation is available for education professionals. Taking place on Tuesday 07 February, 7-8:30pm, the session will explore how leadership teams can support colleagues in schools who are neurodiverse.
Find out more and register your place here.