Active Recovery Curriculums (ARCs) prioritise physical activity and time outdoors at school as a way to super-charge recovery speed and outcomes following the national lockdowns associated with Covid-19.
The Youth Sport Trust commissioned spear, The Centre for Sport, Physical Education & Activity Research at Canterbury Christchurch University to undertake research into ARCs.  The research captures how ARCs can be implemented most effectively and demonstrates the value of physical activity in achieving positive outcomes for children following disruptions caused by the COVID-19 pandemic.
The research found that:
Following lockdown restrictions pupils had reduced physical fitness, decreased wellbeing, low level behavioural issues, and a loss of ability to concentrate in class.
Since taking part in an Active Recovery Curriculum, young people increased their physical activity, wellbeing had improved, and academic progress had improved.
Young people want to do more physical activity and would like to have more lessons outside.
As examples, successful implementation of ARCs involves a whole school approach, activity every-day, a focus on health and lifestyle, and a demonstration of how skills transfer across and beyond sport. 
How to access the report
The full report can be accessed on the right-hand side (desktop) or in the dropdown above (mobile).
Two summaries (1 page or 8 pages) of the research have also been produced, plus 9 school case studies are available (4 written case studies and 5 video case studies).
Case study videos
Please find below five videos that have been produced for case studies.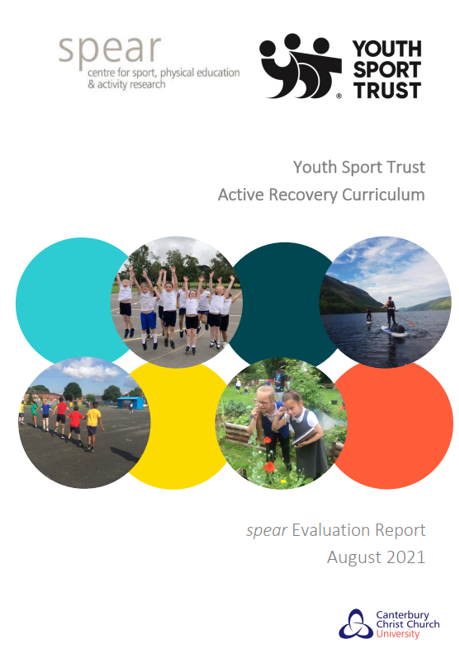 Benfield
Cheslyn Hay
Flora Gardens
Being active helps me let out my frustration and the thoughts that are buzzing in my head. Going for a walk and enjoying fresh air and doing some activity to just focus your mind…so when you get back inside you're ready to learn.
Published on 6 October 2021