Episode 6 - Phil Neville, Baroness Sue Campbell, Faye White, Rachel Unitt
In this three-part episode we speak to former England Lionesses Faye White and Rachel Unitt about this year's Women's World Cup (starts 1:05), we hear from Team YST about the Shooting Stars programme and girls' football in schools (starts 20:17), plus listen to our exclusive interview with Baroness Sue Campbell and Phil Neville to get a peak into what the future holds for women's football (starts 55:20).
Episode 5 - Andy Grant
In this episode we talk to the inspirational Andy Grant (@AndyGbootneck) about the impact of sport on his life. The former Royal Marine, who was injured in Afghanistan, now travels the world as a motivational speaker to help inspire people to get active.
Episode 4 - Kurt Lindley, Ali Goodall, Clare Daniels
In this episode we go behind the scenes at a recent Youth Sport Trust Learning Academy event - all around the topic of developing yourself and developing others. We speak to learning and development specialist Kurt Lindley (@CoachDeveloper), YST's Ali Goodall and the FA's National Development Manager Clare Daniels (@ClareCvj).
Episode 3 - Will Roberts
In this episode we talk to YST Chief Operating Officer Will Roberts about the pros and cons of e-sports, whether there is a place for it in the sporting landscape and the potential impact of gaming on young people.
Episode 2 - John Rowlands
In this episode we hear from John Rowlands, Principal of Manchester Communication Academy, who discusses staff and pupil wellbeing and the big mistake he made when it came to Maths.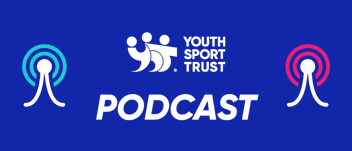 Episode 1 - Ali Oliver
In this episode we talk to YST Chief Executive Ali Oliver about her journey to the top, the importance of Team YOU and what a world that doesn't need the YST looks like.