Featured News
The benefits of sport participation and physical activity in schools
This powerful new research shows the importance of young people taking part in sport and physical activity at school, and crucially continuing to take part throughout exam season.
Find Out More

School sports days are back! More than 1,000 events planned to take place this month
Schools across the country are coming together to celebrate a week of fun, play and sport. 
YST announce new partnership with Playinnovation
The playground equipment supplier produces a range of fun and engaging indoor and outdoor Educational Target Games for schools, designed alongside Olympians, PE instructors and sport specialists.
Sports stars unite to get children active this summer
To combat concerns around a decline in sport and physical activity, British sporting stars have come together to encourage children to get active this summer.
Charlie Mackesy and the nation's schools come together to build a national Thank You Day card
Charlie Mackesy, author and illustrator of much-loved book The Boy, the Mole, the Fox and the Horse has come together with the nation's schools and the Together Coalition to create a nation-wide Thank You card.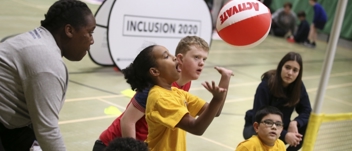 Programme inspires next generation of inclusive sport leaders and Paralympians ahead of Tokyo 2020
A 'lifechanging' three-year Government programme for young people with and without Special Educational Needs and Disabilities (SEND) has given 25,997 participants the opportunity to access inclusive school swimming and water safety resources, experience para sports as part of fun festivals, and learn new skills.
Charity campaign aims for biggest ever week of school sports days this summer
The Youth Sport Trust is asking schools, teachers, parents, and organisations across the UK to get behind a national summer of school sports days after a year in which young people had their worlds turned upside down.
Activity hub to help children achieve 60 minutes a day is launched
A new Active Recovery Hub is launching to provide schools, local authorities, and families with easy access to free resources to get children moving before, during and after the school day.
Youth Sport Trust partners with NEXA Properties
The Youth Sport Trust is delighted to announce a new partnership with NEXA Properties, which will see physical activity and wellbeing opportunities and resources provided for schools local to their offices in England and Wales.
Youth Sport Trust announces free support to help teachers plan summer schools
The Department for Education has today published guidance for secondary schools to help progress their plans for summer schools. £200 million of funding will be distributed to secondary schools to support pupils from disadvantaged backgrounds, whose education has suffered most during the pandemic.
Charity teams up with Chance to Shine
The two organisations will work together to give young people the chance to develop the experience, skills and confidence that come hand in hand with an active lifestyle.
Parents want wellbeing prioritised in schools as pandemic hits home
New research shows parents have seen a decline in their children's wellbeing.
Open letter to children marks return to school
More than 400 schools and partners have signed up to a letter coordinated by Well Schools.