Featured News
Boy with Tourette's and ADHD says Inclusion 2024 giving him access to sport
A 16-year-old boy has spoken out about how he was stopped doing sport at school because of his special educational needs.
Find Out More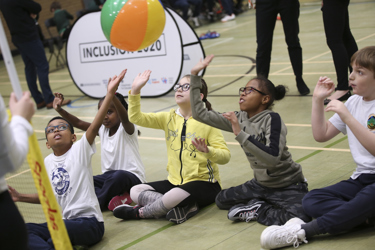 Kimberly Wyatt Announced as Girls Active Ambassador and Judge
The former Pussycat Doll star has been involved in the judging process for this years' awards along with numerous other ambassadors and influencers in the world of sport.
Teacher confidence and capacity to deliver PE improved with £320m funding
As new guidance on the primary PE & Sport Premium is published, primary schools across England are sharing details of how they are improving PE and teachers' confidence to deliver through a £320m government spending commitment.
Charity praises new report looking at impact of physical activity on young people's wellbeing
A new report published by The All-Party Parliamentary Group (APPG) on a Fit and Healthy Childhood today hopes to raise awareness of the importance of movement for children's wellbeing.
Birmingham school says programme has helped it to become best version of itself
Birmingham Connect is being delivered with support from Inspire Activity Ltd, Culture Central and Birmingham Education Partnership. It is funded by Sport England and the Ministry of Housing, Communities and Local Government as part of the Integrated Communities Innovation Fund (ICIF).
New app helping parents of talented young athletes
On Parents in Sport Week, the charity is raising awareness of its Performance Parent app to give parents more support in protecting children's wellbeing.
Play time and sport with school children just what the doctor ordered
School children across the country are supporting 'at risk' older adults to lead healthy and happy lives through a new project developed by children's charity the Youth Sport Trust and supported by GPs.
Charity concerned about schools with no sports facilities
Chief Executive of the Youth Sport Trust, Ali Oliver, comments as reports arise of some new schools opening without any PE or sport facilities on-site.
Children's charity creates toolkit to help schools reframe competition
National children's charity the Youth Sport Trust has launched an interactive toolkit and campaign to support the reframing of competition in school sports, following a successful 12-month pilot delivered through Sport England's National Lottery investment in the School Games.
New report finds active play helps two to five-year-olds prepare for school
A new initiative is supporting children to develop a good level of physical literacy, which gives them the foundations and confidence they need for lifelong participation in physical activity.
Charity urges PM to make PE and sport first order of business
As Boris Johnson is announced as leader of the Conservative party today, children's charity the Youth Sport Trust has reiterated its calls for tackling inactivity to be a national priority.
Jeremy Hunt and Boris Johnson pledge to tackle inactivity
The two Conservative leadership candidates respond to a letter from YST and partners urging action on the crisis in young people's wellbeing.
Sport sector responds to Government's School Sport and Activity Action Plan
Leading sports bodies and charities respond to Government's new plan to get more young people active.