Rachel Bown from Fairfield College, part of the Fairfield Farm Trust, has been selected from thousands of nominations to win a Pearson National Teaching Silver Award.
Rachel was honoured with the Silver Award for Further Education Lecturer of the Year for her outstanding commitment to changing the lives of the children she works with every day.  
Rachel supports young people with Special Educational Needs and Disabilities (SEND) to have the best experience of school sport and physical activity at Fairfield and has helped so many students through her enthusiasm, approach to life and her passion for the impact physical activity can have on pupils mental, physical and social health.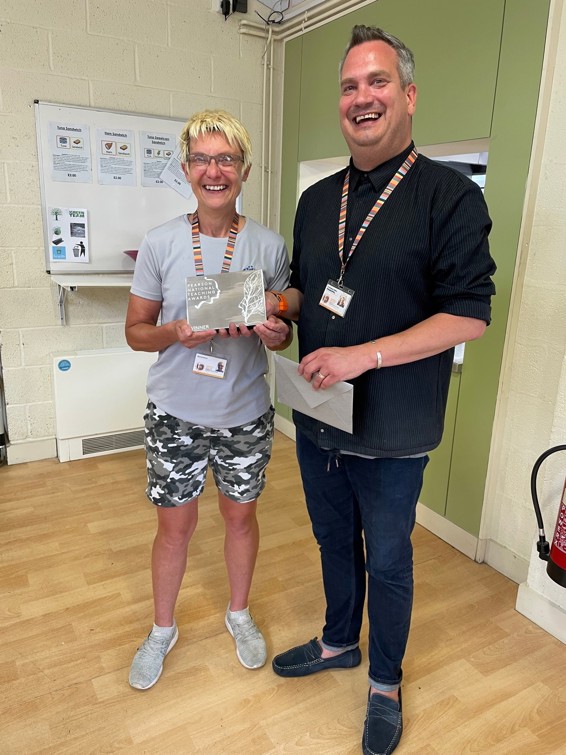 In 2014, Rachel was diagnosed with a 'satsuma-sized' brain tumour which has left her blind in one eye. After undergoing two craniotomies in 2014 and 2015 to remove as much of the tumour as possible, she is now stable but undergoes regular brain scans. Living with the diagnosis on a daily basis, Rachel hasn't let it stop her from living life to its fullest. Alongside her teaching, she has won a bronze triathlon medal in Poland, competing for Great Britain, and now been shortlisted to win one of just 16 Gold Awards, which will be announced and celebrated at a gala ceremony in London on 25 November and televised on the BBC, with winners showcased on The One Show.
The honours have been announced on National Thank a Teacher Day which coincides with National School Sports Week run by children's charity the Youth Sport Trust, powered by Sports Direct.    
15-year-old Asten from the Eaves Learning Centre in Wiltshire is just one of the young people Rachel has supported through the charity's Inclusion 2024 programme.  
He said: "An important milestone in my sports leadership journey was the day I had woken up late and gone into school to be told by Mr Smart that I would be doing something different that day that would be fun. It was the first time I met Rachel and discovered a passion for sports leadership. I joined the session 10 minutes late holding a basketball that initially I'd refused to put outside.  
"Straight away Rachel, the tutor, asked me to put the ball away and I did. 10 minutes into the session, I was sat on the sidelines watching other pupils' techniques. I noticed that Owen was finding the technique difficult so I stepped in to help out and suggested how he could improve. Rachel then encouraged me to take part and I did. 
"About a month later, I was asked if I wanted to go to an event and agreed straight away. This was the start for me of exciting opportunities and new experiences. Since then I've delivered presentations as a young athlete role model at Lavington and Abbeyfield schools and spoken on a panel at the Youth Sport Trust Conference. I got to meet Jill Scott at the event and Ali Oliver who is the CEO of YST. These experiences have helped to build my confidence." 
The Pearson National Teaching Awards is an annual celebration of excellence in education run by the Teaching Awards Trust highlighting the vital role educators play and the work that's delivered in schools and colleges every day. 
Sharon Hague, Senior Vice President of Schools at Pearson UK, said: 
"We would like to congratulate today's Silver winners on their incredible achievements. We can't underestimate the huge contribution schools make to our young people's lives and Rachel is an inspiring example of the positive impact an individual can have on pupils and communities."  
Secretary of State for Education Gillian Keegan said:
"People go into teaching to change lives, and so many of us are lucky to have been shaped and influenced by the best of the teaching profession. 
"These awards mark the exceptional contribution that incredible headteachers, teachers and support staff make every single day, nurturing the potential of our young people across the country. 
"Congratulations to each and every winner and thank you for all you do for our children." 
For more information about Inclusion 2024 and Youth Sport Trust Lead Inclusion Schools visit www.youthsporttrust.org/programmes/inclusion-2024  
Published on 21 June 2023