Jamie
My name is Jamie, I'm 14 and go to Park Community Academy. I have Metachromatic Leukodystrophy. I love sports, in particular Football, Basketball & Cycling!
Through Inclusion 2024, I have had some great experiences and opportunities. I have been able to go cycling in Stanley Park and visit Blackpool Zoo and Blackpool Tower.
I have been to two ten-pin bowling competitions with friends from my school - we won the first one which was in Blackpool and then we went to a North West competition and won that as well which was brilliant. I have told my other friends in school that we all had to try our hardest and to do the best we can but it was lots of fun at the same time.
Before starting on the programme, I was really nervous about trying new things. I had never tried ten pin bowling before but I was really excited at the same time. I was worried about holding the bowling balls because they are very heavy but I tried my best and I did it.
Since getting involved, I now go to more clubs in school like the football club and I know even if I get nervous I can still do it if I try my best. I now really want to do more things and come to more events. I have learned lots of new skills like concentration, taking turns, sharing, cheering on my team and having a good aim.
My top tips/advice to other young people wanting to take part in more sport, physical activity or PE would be to always try your very best even if you are nervous or worried because you can do it when you try hard and always have lots of fun.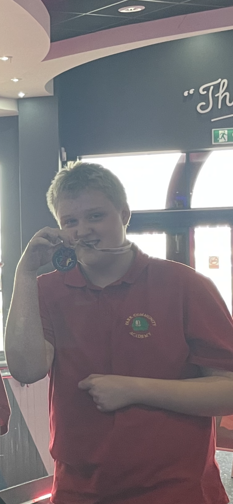 Sophie
Sport has always been a big part of Sophie's life. Sophie lives with idiopathic generalised epilepsy, a global development delay and moderate learning disabilities. Despite experiencing these conditions since she was born, she wasn't diagnosed until three years old. Sophie has actively engaged as a participant in sport since she was around 9/10 years old.
She said: "When I went to Clare Mount Specialist Sports College in the Wirral, which is my old secondary school, I started taking part in the PE lessons and later, community sports night. I had a teacher, Mr Atkins, who was really good at basketball, and we'd do it most of the time in his lessons. I loved it but my real sport was football. I live and breathe football because it's a sport that brings people together.
"When I got to sixth form, we were doing a Higher Sports Leadership Award qualification where we learned about how the body works and delivered sports sessions to each other. After delivering my first session, I really liked the idea of coaching others and I wanted to do it more often. When I left Clare Mount, I went to college to do something else and one day I sat in the classroom thinking to myself 'I'm a sportsperson, what on earth am I doing sitting behind a desk doing this topic that I've tried and I don't really like'.
"After I thought about it, I spoke to my mum and explained that I want to do sport as a career. She asked me if I was sure and I said 'yes, I'd much prefer to do sport than anything else.' We went and looked at a different college because I didn't like the one I was attending at the time and in the end, I went to The City of Liverpool College in Liverpool.
"I looked around & I liked the tutors and the facilities so off I went to my new college. I was the oldest on the course. It didn't really bother me because I got on well with everyone and the tutors were really supportive, so much that I still keep in touch with them now. In 2020, Alex, one of my tutors, helped me apply for university through UCAS as this was something I hadn't done before.
"I got an email a few weeks later to say I had a conditional offer to study Sports Coaching at Liverpool John Moores University, the condition being that I got at least 112 ucas points. When results day came, I was nervous because even though I knew I could do it, having to wait until 8am on results day felt like I was waiting forever. On results day, 8am came and I was on the bus to Greenbank Sports Academy to volunteer for a holiday camp as I had said the week before I would help out.  I thought to myself 'should I wait and open the email with Greenbank or should I just open it now?' but in the end I decided to wait because Greenbank Sports Academy had provided me with a work placement for around three years while I was at college so I felt it would be great to have the staff celebrate with me.
In the end, I got 148 ucas points (D*D*D) & I was accepted into Liverpool John Moores University to do a sports coaching degree. Once I got into university, things changed a bit. I carried on playing football for my team which was FC PHAB but then we got a new manager from another club and all of a sudden, we became Liverpool Transplant FC and I became an assistant coach. I wanted to get my UEFA C coaching badge so I could help make the team the best it could be & for my career as a coach so I started this in August 2022. I am nearly upon completion of the UEFA C in Coaching Football (equivalent to Level 2).
When I finish university, I would like to coach more people both mainstream and people with disabilities to ensure that more people are offered the opportunity to live a fulfilled active and healthy life and to increase opportunities for inclusion to be an everyday occurrence and not just a one-off activity. Inclusion should be happening every day and I will ensure in my career that it continues to happen and that no one is excluded from sport and physical activity."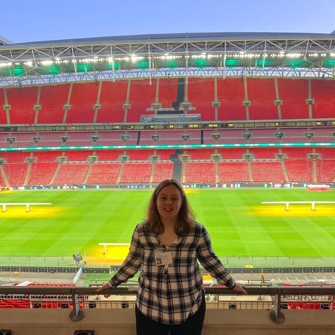 George
When George was 12, he stopped walking. Before the age of 12, George was always playing football, riding bikes and going swimming.
He said: "Sport is very important to me because throughout my life I have always wanted to keep active and join in with things even I have a disability. When I knew that I wasn't going to be able to walk, I did fear that I was never going to be able to play sport again. This was a very tough time for me personally. It was so difficult because I love sport and at the time, my school didn't listen to me which made things even more difficult. Sport became very hard and I didn't always have the same opportunities to join in. I think when it comes to inclusion we should always listen to people.
"Since moving school and through Inclusion 2024, my new PE teachers do listen to me, and this really helps me to join in. I love playing and it really does help my mental health. Without listening to me they wouldn't have known what works and what doesn't, and this makes playing sport a lot more fun, which is what it should be all about. I want people reading my story to listen to people with disabilities. Please listen to us, work with us, so that we feel like we are included."
Asten
This year, 15-year-old Asten from the Eaves Learning Centre in Wiltshire was selected to be the Swindon & Wilts young role model at two inclusive youth leadership days across the county. Asten had always enjoyed & participated in sport & activity, so when Rachel Bown the Youth Sport Trust Inclusion Lead for the County, based at Fairfield College, recognised his leadership potential, Asten was very keen. He quickly developed a passion for helping his peers.
During the leadership events he spoke about his life and experiences in sport to more than 60 young people from both mainstream and special schools and led activities which focused on developing their leadership qualities.
Asten continued to grow into the role of a Young Ambassador for the Youth Sport Trust when he spoke to over 500 people at the annual YST Awards Dinner . As part of the student panel he answered questions about his journey. Below he shares his experiences in his own words:
"An important milestone in my sports leadership journey was the day I had woken up late and gone into school to be told by Mr Smart that I would be doing something different that day that would be fun. It was the first time I met Rachel and discovered a passion for sports leadership. I joined the session 10 minutes late holding a basketball that initially I'd refused to put outside. Straight away Rachel, the tutor, asked me to put the ball away and I did. 10 minutes into the session, I was sat on the sidelines watching other pupils' techniques. I noticed that Owen was finding the technique difficult so I stepped in to help out and suggested how he could improve. Rachel then encouraged me to take part and I did.
About a month later, I was asked if I wanted to go to an event and agreed straight away. This was the start for me of exciting opportunities and new experiences. Since then I've delivered presentations as a young athlete role model at Lavington and Abbeyfield schools and spoken on a panel at the Youth Sport Trust Conference. I got to meet Jill Scott at the event and Ali Oliver who is the CEO of YST. These experiences have helped to build my confidence. My message to the future of the YST and sports leadership is that people should trust and be more accepting of people like me. Family are the people who you can express your emotions to and the people you love. These people can be anybody.
Mason
"Sport is very important to me as it gives me something to do which means I have something to focus on. I think sport is also fun and it helps me to clear my mind which means it becomes very fulfilling. Football is my number one sport, and this is what got me into sport when I was very young. Lots of people around me were playing football so it made me want to get involved to see what everyone else was doing.
"Sometimes it can be harder to get involved with sport when you have autism because other people don't understand you. My life with sport has also been made harder since I was diagnosed with Chron's disease growing up which plays sports a challenge as most of it there is some kind of close contact which is something I now have to be careful of.
"I feel that it can be hard for people with autism to get involved with sport as in my experience other people playing sport and even the coaches don't always have any understanding of autism and what it means for people. I want people to read this blog because for some of us it can make us seem very shy and we don't always know what to do or how to explain that we don't know what to do. We don't always have the same understanding as other people which can mean following rules within a sport a little bit harder to understand so I think more sports people should understand autism more.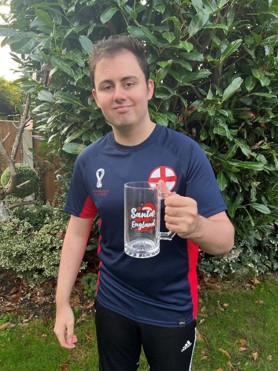 "For me personally I am waiting now to get back to most sport because of Covid-19. When the pandemic hit I was actually coaching a local football team but because of the type of Chron's I have I have to be very careful and this has meant even as many sports go back to 'normal' I can't. I want people to still know this, it might seem okay for many but I really still have to watch my health.
"Despite all this I do hope that I can be more involved in sport in the future. For me it's not just about playing sport but there are so many other things with sport that you can do. I would love to teach other autistic children who to play sports and I want to help people who feel like they can't play sport get involved. Even if I can't play sport I want to help others play."
Joseph
My name is Joseph Thomas Tidbury, I'm 14 years old and currently in Year 9 at Langley. I have hemiplegia which affects the left side of my body. I love sports especially football. I also go to a martial arts class every Thursday and I'm working towards my black belt.
I recently took part in an Inclusion 2024 sports-based event where I teamed up with an Olympic Rower (Toby Garbett) and gave a speech in front of friends, teachers and other students from different schools.
I was nervous before giving the speech because I didn't know what people would think. It was either going to go horribly wrong or right. At the end I was relieved to have done it and everyone clapped, plus they also asked loads of very good questions. I have become a more confident person after I gave the speech and I will hopefully be signed up to do more sports related event/programmes in the future.
I love football, which is a good thing because I have played at Aston Villa's Academy with school. Also, in December 2021, 9 days before my birthday I watched Liverpool play at Anfield (Liverpool stadium). I came out the stadium happy because they won 1-0. My favourite Liverpool player Mohammed Salah scored a penalty.
My advice to you is to never give up and achieve your goals. I think you should also try new sports, have a go and if you don't like it then move on. From this programme I have learned new skills. For example, I've learned how to give a speech in front of people and grown in confidence. You can also make new friends from trying different sports.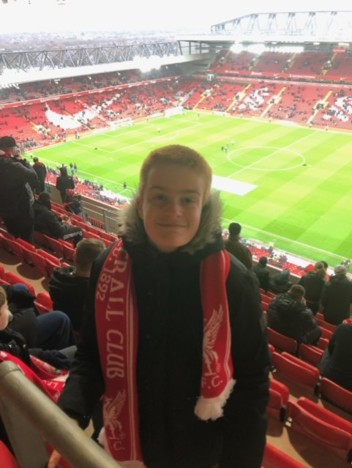 Sometimes it can be harder to get involved with sport when you have autism because other people don't understand you.
Video interviews
Watch interview snippets with alumni who have been supported by Inclusion 2024 and recall their experiences.
Published on 12 January 2023