George
When George was 12, he stopped walking. Before the age of 12, George was always playing football, riding bikes and going swimming.
He said: "Sport is very important to me because throughout my life I have always wanted to keep active and join in with things even I have a disability. When I knew that I wasn't going to be able to walk, I did fear that I was never going to be able to play sport again. This was a very tough time for me personally. It was so difficult because I love sport and at the time, my school didn't listen to me which made things even more difficult. Sport became very hard and I didn't always have the same opportunities to join in. I think when it comes to inclusion we should always listen to people.
"Since moving school and through Inclusion 2024, my new PE teachers do listen to me, and this really helps me to join in. I love playing and it really does help my mental health. Without listening to me they wouldn't have known what works and what doesn't, and this makes playing sport a lot more fun, which is what it should be all about. I want people reading my story to listen to people with disabilities. Please listen to us, work with us, so that we feel like we are included. "
Mason
Sport is very important to me as it gives me something to do which means I have something to focus on. I think sport is also fun and it helps me to clear my mind which means it becomes very fulfilling. Football is my number one sport, and this is what got me into sport when I was very young. Lots of people around me were playing football so it made me want to get involved to see what everyone else was doing.
Sometimes it can be harder to get involved with sport when you have autism because other people don't understand you. My life with sport has also been made harder since I was diagnosed with Chron's disease growing up which plays sports a challenge as most of it there is some kind of close contact which is something I now have to be careful of.
I feel that it can be hard for people with autism to get involved with sport as in my experience other people playing sport and even the coaches don't always have any understanding of autism and what it means for people. I want people to read this blog because for some of us it can make us seem very shy and we don't always know what to do or how to explain that we don't know what to do. We don't always have the same understanding as other people which can mean following rules within a sport a little bit harder to understand so I think more sports people should understand autism more.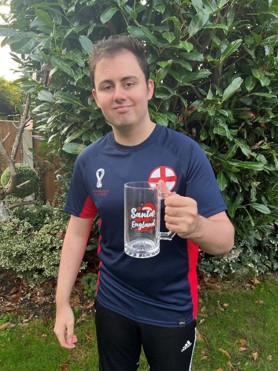 For me personally I am waiting now to get back to most sport because of Covid-19. When the pandemic hit I was actually coaching a local football team but because of the type of Chron's I have I have to be very careful and this has meant even as many sports go back to 'normal' I can't. I want people to still know this, it might seem okay for many but I really still have to watch my health.
Despite all this I do hope that I can be more involved in sport in the future. For me it's not just about playing sport but there are so many other things with sport that you can do. I would love to teach other autistic children who to play sports and I want to help people who feel like they can't play sport get involved. Even if I can't play sport I want to help others play.
Sometimes it can be harder to get involved with sport when you have autism because other people don't understand you.
Free CPD for practitioners – Inclusion Live Week (23-27 January)
Roshni Mistry is Programme Officer for Inclusion for Children's Charity the Youth Sport Trust and lead for Inclusion Live. Here she blogs about why Inclusion Live week is so important for children and young people with SEND.
Imagine attending school every day and instead of taking part in your PE lesson you were asked to go to the library, or to complete extra subject work whilst your peers were being physically active?
Now imagine being given this instruction by your PE teacher as they simply didn't know how to get you involved in their lessons or didn't know the best way to ask you how they can adapt their activity to include you.
This can be (and, sadly, has been a very real, lived experience in 2022 for some), the reality that young people with SEND can face in schools, which can be damaging to their physical, social, and mental health and overall wellbeing. With recent data from Sport England highlighting that children and young people with SEND are less likely to report positive attitudes around enjoyment, confidence, competence and understanding than their peers, it is vital that freely available inclusive practice CPD around PE and school sport is shared far and wide.
Powered by Inclusion 2024, the Youth Sport Trust is co-ordinating a week full of great inclusive practice, tangible advice, and guidance which is free for all schools and those working with children and young people with SEND to access.
Inclusion Live is here to break down some of the barriers that stop practitioners from getting ALL their young people involved in being physically active.   
Why is Inclusion Live needed?
We know there can be challenges when trying to get all young people engaged in school sport and physical activity, and often a fear of 'getting it wrong' for children with SEND can be the main barrier. Inclusion Live is here to help address those challenges. You can hear directly from expert practitioners on how they include young people in PE, and from young people themselves on their feelings of being both included and excluded.
The aim of the week is to provide live virtual CPD content to train and upskill as many practitioners as possible to develop greater knowledge, competence, and confidence to provide meaningful and inclusive opportunities for young people with SEND.
What is Inclusion Live about?
From the 23-27 January there will be a series of live (and recorded) sessions led by teachers, young people, and experts from across the sector including:
Show and Tell photography – alternative ways young people can be inspired by the magic of sport via the power of photography.
Whitfield Aspen School – a truly inclusive Dover-based school that brings together mainstream and special school pupils in inclusive and inspiring learning environments
Youth Panel - back by popular demand from last year, we will be hosting a panel of young people in education who will talk about their experience of school sport and physical activity and share their journey through sport.
Last year's first Inclusion Live week saw approximately 300 educators join live throughout the week. Each session included British Sign Language interpreters and live captions to ensure accessibility for all. Those who attended said they liked hearing from experts on how to create an inclusive environment in their schools and lessons, and were inspired by hearing directly from young people. Educators also reported that they have since embedded the practical advice they received.
 You can get involved by:
Watching the sessions from last year to get a flavour on what to expect this year
Registering onto the event this year. If you register and attend at least one of the sessions, you will get access to the whole week of recordings and further free to access content
Sharing the Inclusion Live Week on your social media channels to ensure as many people as possible know it's happening.
Register to join the week and find out more about the sessions.
Published on 12 January 2023