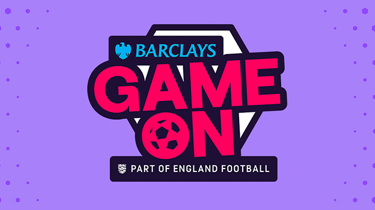 eligibility
explainer
For the most effective journey, please log in or register. As a logged in user you will automatically see the programmes your school/organisation is eligible to access.
Barclays Game On
Barclays Game On part of England Football was developed by the Youth Sport Trust (YST) in partnership with England Football. Barclays Game On is designed to support secondary schools to create engaging, meaningful and enjoyable girls' football opportunities in their schools.
Description
Through the Barclays Game On three elements - GO Teach, GO Lead and GO Play. Teachers can engage girls in curriculum physical education through a life skills approach, using football as the vehicle (GO Teach). Empower girls to become girls' football activators and design, create and deliver opportunities for their peers to play (GO Lead). Inspire girls' to enjoy extra-curricular football with ready-made resources and sessions (GO Play).
For more information about the programme and to view the digital resources, visit
www.girlsfootballinschools.org
.