Welcome to the final newsletter of this academic year. We want to take this opportunity to thank you for the amazing work you have all done this year and the impact you have made on so many young people's lives.
With your help: 
1,400 schools have been supported with inclusive advice, training and guidance
Over 4,000 teachers and practitioners have been trained by the Lead Inclusion School network
1,800 young people with SEND have taken part in Winter Olympic-inspired inclusive sport festivals
1,400 young people with SEND have been given Inclusive Youth Leadership training through our Step into Sport events.
Thank you once again for the amazing work you continue to do and the opportunities you provide for young people of all abilities in your counties - it makes a real difference for the lives of children and young people across the country.
We hope you all have a restful summer holiday, and we look forward to seeing you all in September where we have some exciting things coming up on the horizon.
ACTIONS
Save the Date: National Lead School Networking Event – 22 September
During the June Networking day, we mentioned that we plan to have a national networking day in the autumn term. We asked all three networks on a preference, which has lead to the decision of holding a face-to-face networking day on Thursday 22 September 2022.
We are still working on the details, but it will be held in a central location that will be accessible to all. Further information about the day will be announced at the start of the next academic year. For now, please save the date. If you do have any queries in the meantime, please contact Theo.
School Recruitment Window
There has been a slight delay with the school recruitment window for you to reapply to be a Lead Inclusion School for the 2022/23 academic year. We hope to have this open early the week of the 18 July. We will send confirmation via email once the window is open.
There are some slight changes to the core offer, especially around the Inclusive Youth Leadership (Step into Sport), so please ensure you, your school, and headteacher are comfortable with the deliverables. There will also be an opportunity to apply for several innovation projects, most of which are part of Inclusion 2024, including an exciting new secondary CPD project.
UPDATES
Core School Payments
The final instalment of core lead inclusion school payment of £1,750 should be in your account by the end of the month. We are sorry for any inconvenience these late payments may have caused with your planning. If you have any questions or require a breakdown, please contact Theo.
YST Membership
The Youth Sport Trust Membership is open for the next academic year - as a lead inclusion school you are required to have YST membership.
Inequalities exist for so many young people and lots are still struggling with the after-effects of Covid-19. What can we all do to help?
PE, sport, and play are vital to a young person's health and happiness, and our innovative membership support package will help you ensure that your students benefit from the most up to date ideas and best practice. The package includes:
a week of live virtual sessions with sector leaders
cutting-edge expertise from PE practitioners
case studies, webinars, and reports to aid your development
a youth voice toolkit to help educators engage more young people.
Please join us as we work to level up the future for all our young people. To find out more and register, please follow this link.
June Networking
Thank you again to those that were able to join us for the June networking day on Wednesday 15 June. It was great to spend time with you all virtually to hear all of the great work you have been doing within your counties, and discuss the future of the network.
For those of you who were unable to join, or those who would like to rewatch, please find links to the sessions below:
If you do have any comments, feedback, or queries about any of the session, please do not hesitate to contact one the team.
OPPORTUNITIES
MATP
Learn about the Special Olympics Motor Activity Training Programme (MATP) for individuals with profound and complex needs.
The Special Olympics MATP is a unique programme specifically designed for athletes of all ages with Profound and Multiple Learning Disabilities (PMLD), Complex Disabilities, and/or Complex Needs (inclusing complex autism).
MATP provides genuine opportunities for training and competition for individuals with PMLD and complex needs. Opportunities are realistic and tailored to the individual. It focuses on the abilities, and enables athletes to work and showcase motor skills and sporting achievements that are relevant to them.
To book onto the next training event, please follow this link.
Premier League Sensory Circuit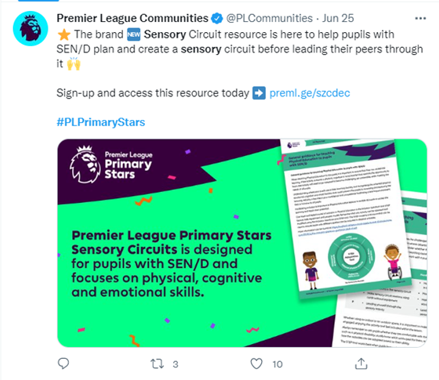 SHARING PRACTICE
Activity Alliance Annual Disability and Activity Survey
In June, Activity Alliance released the findings from their Annual Disability and Activity Survey 2021/22, revealing many disabled people feel forgotten as we recover from the pandemic. Some key findings from the survey include:
less than 3 in 10 disabled people feel encouraged to return to physical activity after the pandemic
the pandemic has led to the support disabled people need to be active being less available, and an increase in barriers relating to health and finances
only 4 in 10 disabled people feel they can be as active as they want, in contrast to non-disabled people who are now more likely to say they can be as active as they want (62%-69%).
Find the research report's summary findings and accessible formats here.
SEND Data Out from DfE
In the middle of June, the Department for Education (DfE) published its annual set of statistics on special educational needs in England.
You can find the data here. Key findings for us to be aware of: 
the growth in the numbers of pupils with SEND is biggest in the primary school sector – particularly in Key Stage 2, the older primary years
in January 2022, 1 in 5 Year 6 pupils were on the SEND register
compared with last year, there are now 25,000 more state school pupils with speech, language and communication (SLCN) listed as a primary need, and about 18,000 more pupils with social, emotional and mental health (SEMH) as a primary need
82% of school pupils with SEND are in mainstream state schools. Add independent mainstream schools into the mix, and the figure goes up to 89%.
SEND Green Paper
The government is committed to improving outcomes for children and young people with SEND and those in alternative provision.
To achieve this ambition they want to work with and hear from:
children and young people
parents and carers
those who advocate and work with the SEND sector
local and national system leaders.
They encourage you to consider the proposals set out in this green paper and respond to their consultation.
Together, they can ensure every child and young person with SEND and those in alternative provision can thrive and be well prepared for adult life.
The government are seeking views on their green paper about the changes we want to make to the Special Educational Needs and Disabilities (SEND) and Alternative Provision (AP) system in England.
The SEND Green Paper can be found here, and the consultation questions here. 
The consultation closes Friday 22 July.
The more we can share similar messages to the Department, the more we can hope for further opportunities for our children and young people to access inspiring and meaningful PE and school sport, and to see the wide-ranging benefits this can have for children's physical, mental, emotional, and social health.