Introduction
Welcome to your last newsletter of 2021. We would like to take this opportunity to thankyou all for your exceptional leadership and practice throughout another interesting year. It has been wonderful to see so many of you recently on various Zoom/Teams calls as we commence innovation projects, and look forward to working with you all in the New Year.
From us all at YST we hope that you have a well deserved, restful festive break with your friends and family, and we will see you all in the New Year!
Chris, Roshni and Vicci
ACTIONS
Autumn Termly Reporting Window
You should have all now received a link to your Autumn Term Reporting. The window is open from Monday 22 November until Friday 17 November. If you are unsure of your link or have any queries, please contact Roshni.
Inclusion 2024 Live Week – 07-11 February
From 07-11 February 2022 we are delighted to announce that through the DfE Inclusion 2024 we will be holding an Inclusion 2024 Live Week. This week is completely free to access for all schools/school sport providers across the country and will be all delivered virtually. With some inspirational and unique content planned, we have an ask from you all whereby we would love you to promote this opportunity through your networks. Please do look out for more information on this coming into your inbox before the festive break.
Save the date: 10 February 12pm-1.30pm for Lead Inclusion School optional drop in session
We have scheduled an optional drop in session on Thursday 10 February during Inclusion 2024 Live Week. There is no obligation to attend, but we want to provide some time to connect virtually and share successes and challenges we're having within the network.
UPDATES
Move Like Me – four new videos added
Introducing you to Adam and Aliya from Crownhills and Tarell and Will from Dorothy Goodman School (all from Leicestershire) who are our latest Move Like Me young presenters. Check out their brilliant videos here and please share through to your networks to help inspire other young people with SEND to give these sports a go and stay active. All four young people are keen sports people, and demonstrate both great sporting and presenting skills in front of the camera. 
Step into Sport
A number of schools came back to ask about the Step into Sport content for this year and we are excited to let you know that the content has now been refreshed and is on our website. It can be found on YST website here.
Activ8 Academy
10 young wheelchair users in the Manchester area were provided training to develop their leadership and coaching skills through sessions on the Youth Sport Award, practical wheelchair skills and mentoring training to name a few. From this opportunity we were able to work in collaboration with them to leave a legacy from their opportunity by them using their voice to provide top tips on how to work with young wheelchair users. This great piece of work can be found on the Top Sportsability page under wheelchair skills called 'Top Tips For Engaging Wheelchair Users – By Young People In School And Community'. Please have a look by following this link.
STORIES
Intergalactic Athletes | A new FREE KS3/4 creative education resource, combining students' visual, analytical and written skills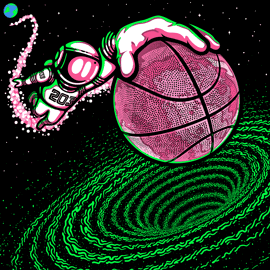 Challenge you students to design outer-space, Intergalactic Athletes, in 2D, 3D, or both! Check out the resource at: www.intergalactic-athletes.io
Benefits:
Simple teacher resources to use, ready for delivery in your classroom
Student work is featured in an online space-themed gallery
All submissions receive a bespoke digital certificate.
Features:
Can be delivered in curriculum, for extra curricular enrichment or for after schools clubs (both for the classroom or remotely at home)
Subjects covered: Art & Design, D&T, English (but challenge your students to get physically 'Intergalactic' active through the process!)
Immersive space themed story and project experience for students
Includes an engaging Intergalactic Athletes video brief
Young people can imagine what other sports are currently being played in space – keeping all of those aliens, robots and all sorts of creatures, perhaps even other humans, active
"Intergalactic Athletes allows students to embrace a creative journey that has no boundaries. It provides the foundations for young people to design athletes that have never existed and explore their imagination without worrying about what is right or wrong. It inspires creative thinking and could be the catalyst for the next J. K. Rowling, Tolkien, or Roald Dahl – individuals that have used imagination and innovation to create new worlds." 
Jack Andrews, Head of 3D Design, Simon Balle School
Intergalactic Athletes is a project by Triple Double, a London-based creative studio that unleashes how youth engage in sport and education.