Featured News
The Youth Sport Trust believe it's time to re-imagine why and how we teach PE.
We believe that PE and sport play a fundamental role in the education and development of every child, and we know from more than 25 years of working with schools they make a significant contribution to young people's wellbeing, engagement and learning.
Find Out More

Ready, set... school sports days are go for National School Sport Week 2021!
Thousands of schools, organisations, families and communities getting active for National School Sport Week: Together Again
Primary PE and Sport Premium confirmed for 2021/22
The Department for Education has today (17 June) confirmed that the primary PE and Sport Premium will continue for the next academic year (2021/22).
Youth Sport Trust & sport sector seek urgent clarity on the continuation of primary PE funding
An open letter to Education Secretary, the Rt Hon Gavin Williamson MP, has been published today calling for confirmation that the Primary PE and Sport Premium will continue for 2021/22. It comes with just a few weeks left of the summer term.
Charity addresses young people's appetite to coach peers with virtual event
New research from the Youth Sport Trust has been released ahead of a pioneering virtual event to support young people to develop their coaching and leadership skills to get their peers active.
School sports days are back! More than 1,000 events planned to take place this month
Schools across the country are coming together to celebrate a week of fun, play and sport. 
YST announce new partnership with Playinnovation
The playground equipment supplier produces a range of fun and engaging indoor and outdoor Educational Target Games for schools, designed alongside Olympians, PE instructors and sport specialists.
Sports stars unite to get children active this summer
To combat concerns around a decline in sport and physical activity, British sporting stars have come together to encourage children to get active this summer.
Charlie Mackesy and the nation's schools come together to build a national Thank You Day card
Charlie Mackesy, author and illustrator of much-loved book The Boy, the Mole, the Fox and the Horse has come together with the nation's schools and the Together Coalition to create a nation-wide Thank You card.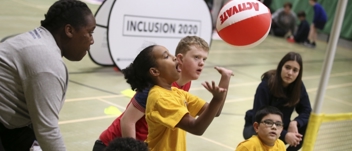 Programme inspires next generation of inclusive sport leaders and Paralympians ahead of Tokyo 2020
A 'lifechanging' three-year Government programme for young people with and without Special Educational Needs and Disabilities (SEND) has given 25,997 participants the opportunity to access inclusive school swimming and water safety resources, experience para sports as part of fun festivals, and learn new skills.
Charity campaign aims for biggest ever week of school sports days this summer
The Youth Sport Trust is asking schools, teachers, parents, and organisations across the UK to get behind a national summer of school sports days after a year in which young people had their worlds turned upside down.
Activity hub to help children achieve 60 minutes a day is launched
A new Active Recovery Hub is launching to provide schools, local authorities, and families with easy access to free resources to get children moving before, during and after the school day.
Youth Sport Trust partners with NEXA Properties
The Youth Sport Trust is delighted to announce a new partnership with NEXA Properties, which will see physical activity and wellbeing opportunities and resources provided for schools local to their offices in England and Wales.