Featured News
The Youth Sport Trust believe it's time to re-imagine why and how we teach PE.
We believe that PE and sport play a fundamental role in the education and development of every child, and we know from more than 25 years of working with schools they make a significant contribution to young people's wellbeing, engagement and learning.
Find Out More

Co-op Foundation #iwill grant to enable charity to bridge wellbeing gap for boys
UK children's charity, the Youth Sport Trust, has received a grant of more than £63,300 from Co-op's charity, the Co-op Foundation.
New data showing 2.3 million children inactive highlights urgent need for national plan
Research published by Sport England today shows a decline in physical activity levels among young people last year.
Online club to help a generation maintain sports skills at home
Children across the UK are being helped to feel part of a club and encouraged to 'keep developing their multi sports skills' by former sports stars and children's charity the Youth Sport Trust (YST).
Youth Sport Trust responds to third lockdown
Following the recent announcement of a third lockdown, national children's sport charity the Youth Sport Trust has issued the below statement about the impact it will have on Physical Education, school sport and physical activity for children.
Students in Prescot told to shoot for the stars by World Champion skater
A programme which aims to provide young people from disadvantaged backgrounds with the opportunity to develop valuable life and leadership skills is making waves in Prescot, Merseyside.
Boxes bursting with sport inspired toys donated to Charnwood children
Children in need in Charnwood will receive a Christmas treat this year to help them have fun and enjoy sport over the holidays, thanks to a partnership between Loughborough charity the Youth Sport Trust and the Charnwood Christmas Toy Appeal.
More than £25k raised for teaching heroes in charity's Christmas appeal 
The Youth Sport Trust thanks supporters for raising £25,451 including Gift Aid.
Youth Sport Trust and Wonder Woman 1984 charity partnership kicks off with free resources for families
Partnership with children's charity the Youth Sport Trust will see the creation of free Wonder Woman-inspired resources for children, families and schools.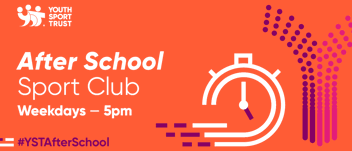 Children get active in lockdown with online sports club
Almost 14,000 children & young people tune in for their sports club.
Ofsted highlights the importance of PE and school sport
Chief Inspector of schools launches annual report by affirming the essential role PE and sport have to play in schools.
Teaching heroes praised in charity's Christmas appeal
The Youth Sport Trust is aiming to raise £25,000 to support teachers' wellbeing this week.
Government's Spending Review 2020: summary
The Chancellor announced additional funding for schools and for sport.