In 2022, as part of the development of our new strategy, the Youth Sport Trust brought together in one place the latest research, evidence and insight on the importance and impact of Physical Education (PE), school sport and physical activity. The 'PE and School Sport Report' highlighted the issues facing children and young people today and reinforced the need to raise public awareness of these issues to inform and stimulate action. The world is changing rapidly, and we need new thinking and solutions if we are to protect and nurture the health and happiness of the next generation.
We made a commitment to publish this report on an annual basis in support of the three objectives of our 2022-2035 strategy: Urgent Action, Generational Shift and Societal Change. These annual reports will complement our 'Class of 2035' insight report which has been published every 5 years since the charity's 20th anniversary in 2015.
This report will track awareness and attitudes to PE, school sport and physical activity over the next ten years. We hope it will build a true "state of the nation" picture for those working in this space, but also for parents and carers, policy makers and other public influencers who can become changemakers for PE, school sport and physical activity.
State of the Nation - at a glance
Our children are;



And the most disadvantaged groups in society are the most impacted.
PE, School Sport and Physical Activity bring a wide range of benefits to address these these challenges...

 Physical Health

Mental health

Social wellbeing

Brain function
Schools are uniquely placed to provide opportunities for physical activity for young people, shaping their attitudes to PE, school sport and activity and helping them to develop life-long habits.
However, we're not currently unlocking this potential…
Less than half (47%) of young people in England are meeting minimum physical activity levels
72% of parents are concerned that young people are not getting enough physical activity
Only 43% of parents are aware that children should be active for 60 minutes or more a day
54% of children would like to do more exercise or sport than they are currently doing.
Download the full 'PE and School Sport' report to find out more.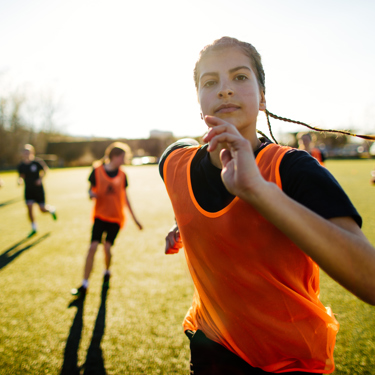 Be a part of the solution: National School Sports Week
National School Sports Week is back for 2023, and this year we want to make sure that all children in the UK are active for the Chief Medical Officers' recommended minimum time of 60 minutes a day. That's why this year, along with our campaign partner Sports Direct, we're asking you to 'play for fun, play for 60'!

​We want families, schools and partner organisations to take the #PledgeToPlay today. The pledge supports the government ask that children are active within school for 30 minutes a day, and then outside of school for at least another 30 minutes, supporting every child to reach the minimum amount of 60 active minutes. For disabled young people, the Chief Medical Officers' recommendation is for a minimum of 20 minutes of physical activity every day, including strength and balance activity three times a week. 

Click below to find out more.