Featured News
The benefits of sport participation and physical activity in schools
This powerful new research shows the importance of young people taking part in sport and physical activity at school, and crucially continuing to take part throughout exam season.
Find Out More

More than £900,000 funding pledged to help children with SEND benefit from inclusive PE
Thousands of schools in England are to be supported to improve Physical Education (PE) and school sport for young people with special educational needs and disabilities (SEND).
Charity responds to new report showing steep decline in children's happiness levels
The Children's Society has today released its annual Good Childhood Report.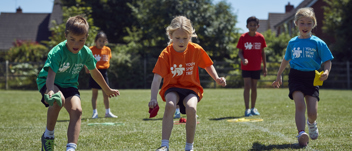 Paralympic athlete helps kids get active
Children attending council-led school holiday hubs in north Oxfordshire have been treated to training sessions with a Team GB Paralympian.
Charity teams up with Sweaty Betty Foundation to support UK's most disadvantaged young people
Getting girls active: children's charity the Youth Sport Trust and The Sweaty Betty Foundation are forming a new partnership
Charity announces return of UK's biggest multi-sport event for school-aged athletes
As the dust settles on the Tokyo Olympics, children's charity the Youth Sport Trust has announced the return of The School Games National Finals, the UK's biggest youth multi-sport event, next month after a three-year hiatus.
Charity responds to new report on community sport and getting children active again
A report published by the Digital, Culture, Media and Sport (DCMS) committee today (Thursday 29 July) has called on government to launch a nationwide campaign to get children active. Read the Youth Sport Trust's response.
Hundreds of thousands enjoy week-long celebration of school sport
National School Sport Week 2021: The highlights
Children pause lessons to play for National School Sport Week 2021
Broadcaster Leah Boleto has joined forces with YST to call for young people to get outdoors and get active for #NSSW2021
Ready, set... school sports days are go for National School Sport Week 2021!
Thousands of schools, organisations, families and communities getting active for National School Sport Week: Together Again
Primary PE and Sport Premium confirmed for 2021/22
The Department for Education has today (17 June) confirmed that the primary PE and Sport Premium will continue for the next academic year (2021/22).
Youth Sport Trust & sport sector seek urgent clarity on the continuation of primary PE funding
An open letter to Education Secretary, the Rt Hon Gavin Williamson MP, has been published today calling for confirmation that the Primary PE and Sport Premium will continue for 2021/22. It comes with just a few weeks left of the summer term.
Charity addresses young people's appetite to coach peers with virtual event
New research from the Youth Sport Trust has been released ahead of a pioneering virtual event to support young people to develop their coaching and leadership skills to get their peers active.