In the last six months as a result of Covid-19, demand for support from schools to ensure they can access and deliver inclusive PE, sport and physical activity for their pupils with SEND has soared. 
But a successful programme, funded by The DfE, has supported schools every step of the way to reach children with SEND by adapting its delivery and giving teachers increased confidence in teaching meaningful and inclusive sport and PE, in line with the Government's School Sport and Activity Action Plan. 
With a fresh focus on supporting children self-isolating at home and those within a bubble at school, Inclusion 2020 gives children with and without SEND the opportunity to experience a variety of para-sports like New Age Kurling and seated volleyball, the chance to compete, and comprehensive training for teachers. 
Schools Standards Minister Nick Gibb said: 
Physical education is a key element of every child's education, which is why schools should be inclusive environments where all children, including those with special education needs and disabilities, benefit from being physically active. 
PE helps children build friendships, bolsters their development and supports resilience. The Inclusion 2020 programs will give many more children the opportunity to participate in para-sports and help develop important skills for life.
The programme sees a network of lead inclusion schools, each recognised as inclusion champions and visionaries for what high quality, meaningful and inclusive PE and school sport should look like for every child, working directly with young people, parents and other schools to increase opportunities for young people with SEND to enjoy Physical Education, school sport and physical activity and learn life skills.  
With less than a year to go until the Tokyo Paralympics, Inclusion 2020 has already supported 10,317 young people (65% with SEND) to try para-sports inspired by the Paralympic Games and upskilled more than 10,000 teachers and coaches in inclusive practice from 5,042 schools in England since it started in 2017. 
Over the next six months, the programme will see: 
20 virtual learning & discovery festivals to enthuse children and staff about para-sports and provide opportunities to take part. The virtual festivals are aimed to support children at home, children within a bubble, and children accessing school sport in the usual way. Resources developed with inclusion experts and aligned to government social distancing guidelines, are available to Inclusion 2020 schools 
The development of a youth voice toolkit which builds on the training young people receive to advocate inclusive sport in their schools. The toolkit will ensure the views of young people with SEND are heard and ensure PE, sport and physical activity adapts to new routines and structures as a result of the virus 
Youth Sport Trust Chief Executive Ali Oliver said: 
"Taking part in fun and inclusive sport and play unlocks so many life benefits. It improves wellbeing, increases confidence and a sense of belonging. It can help forge friendships and foster inclusive and respectful environments within schools.  
"We know through research that children are most influenced by their peers and so a key part of Inclusion 2020 with this renewed funding has been making sure we are empowering and training thousands of young people to support their peers.  
"They are the next generation and by supporting young people with and without SEND to be advocates, we can ensure that having special educational needs or a disability is no barrier when it comes to benefitting from high-quality PE, sport and physical activity. Young People will be the legacy of this programme and ahead of Tokyo 2021, we want to build excitement and inspire children and young people."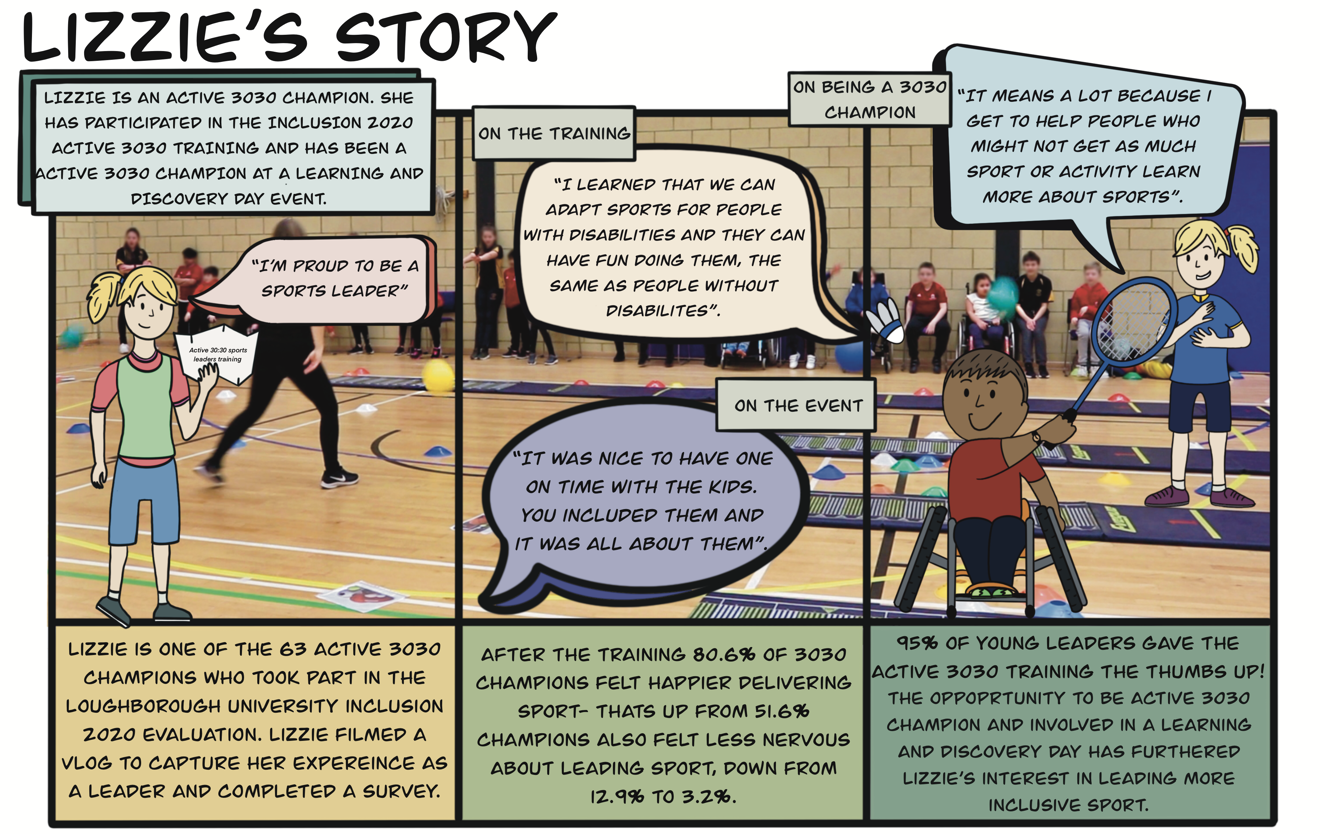 Teejai's story
Teejai Campion is among the 2,531 young people across the country to be empowered to deliver inclusive sport to his peers and learn new skills through sport. Teejai has severe Attention Deficit Hyperactivity Disorder (ADHD) which affects his ability to concentrate, to organise his thoughts and to remain still. The severity of his ADHD impacts his ability to learn, which has caused significant learning difficulties.
By learning leadership and communication skills through sport, Teejai has recently secured a job with the Northampton Saints Rugby Club but says this wouldn't have been possible if he hadn't have been supported through Inclusion 2020.
He said: "Taking part in the sports leadership course was worth all the time and effort because even if it takes you a long time it helps you to learn so many new skills that don't just help you in sport but in all of your life.
"My first year of the course was incredible. I built so much confidence and discovered how to create, plan and teach a PE lesson. My favourite part of the course was teaching and showing the younger students and primary students how to play Boccia and Basketball. The most challenging part was helping the students, as it can sometimes be stressful, but it was worth it in the end as I have gained communication, teamwork and organisation skills that I did not have before.
"Once I had built confidence and improved on these skills I was able to be a PE teaching assistant in key stage 3 lessons and support the sports club in the gym at lunch time. This made me feel proud that I had been given this responsibility and was chosen as a role model to the younger students."
The consortium of organisations includes Activity Alliance, the British Paralympic Association, Nasen (National Association of Special Educational Needs), Youth Sport Trust and Swim England. Parents and young people are also part of the consortium group. 
Published on 6 October 2020