Modern family life can be hectic. Our daily routines are so chaotic that making time each day to be active can seem really difficult. But physical activity is incredibly good for us, and especially good for children. Luckily, being active and exercising can also be loads of fun and there are many fantastic ways that we can keep ourselves, and our children, entertained whilst also keeping healthy. 
Keep kids active 
Current government guidance is that children and young people (aged 5 to 18) should 'engage in moderate-to-vigorous intensity physical activity for an average of at least 60 minutes per day across the week.' 
This can include all forms of activity such as 'PE in school, active travel, after-school activities, play and sports.' Toddlers and pre-schoolers are recommended to have three hours of activity per day.  
Why is being active healthy? 
Evidence has shown that for children, this 60+ active minutes is great for both their physical and mental health. It leads to improvements in bone health, cognitive function, muscle fitness, weight status and reductions in levels of depression and anxiety. But most importantly, being active can be great fun!  
At the moment, only 47% of children in the UK meet current guidelines for 60 minutes of activity across the day. We want to change this and make sure all children are getting the opportunity to stay fit and healthy and enjoy some time being active! 
Easy ways to get active everyday 
Fun on the School-Run 
The school run is a great time to add a little fun activity into the day. Swap the boring-old routine for an adventurous school run filled with fun. Can you replace a car journey with walking, cycling or scooting? If not all the way, then part of the way? Walking, cycling and scooting are a great way to add physical activity to the start and end of the school-day plus it reduces air pollution in the local area.  
Why not try a new, adventurous route to school? Sometimes habit can become a chore and children might get bored of trudging the same old journey to and from school each day? Take a look at the map and plot a new route to school. It may not be the most direct course, but taking a bit more time and going a new way will add active minutes plus an exciting twist to the school run.  
Doorstep Mini-Adventures 
Though taking part in sport and other organised activities is great, not all physical activity needs to be so pre-planned. Why not try some doorstep mini-adventuring? This could be on the journey back from school, or playing in the garden or local park after school or at the weekends. 
Whether it's climbing a tree, splashing in a stream or building a den; doorstep mini-adventures are fun, free, quick and easy but a great way to get kids out and active right from your own doorstep. You may live in the urban wilderness or deepest rural jungle, mini-adventures can be created anywhere! 
Our favourite 3 mini-adventures; 
1. Set an ambush 
Find a patch of hidden undergrowth in the garden, park or local woods and allow the children to set up an ambush. They may camouflage themselves with a bit of mud or a headdress made of ivy, leaves and feathers. Kids can conceal themselves in the undergrowth or between trees and then pounce out and ambush unsuspecting grown-ups!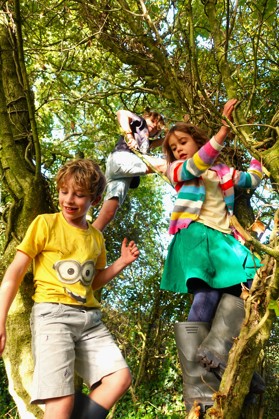 2.Watch the sunrise/sunset 
Watching the sunrise and sunset is a magical time of day. Set the alarm early, pack a thermos of hot chocolate and set out to watch the sunrise. See if you can find an open space; a hill, a field or a park and start the day by watching the colours of the sun. The kids can run a little wild whilst the world around you wakes up. Kids not early birds? Check the time of the sunset and head out for an evening hike to catch the last rays of the day. Make sure you take a torch for the walk home and listen out for hooting owls in the dark.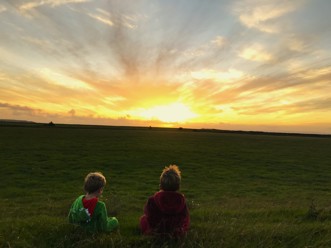 3. Become a wildlife detective 
Wildlife is all around us and children can become wildlife detectives! Search for bugs sheltering in the grass or buzzing insects on flowers. Maybe you can find some hidden clues to uncover which animals live around you? Badgers and deer may leave tracks in the mud to show where they have been. Look closely and you might even find some poo! Rabbits and foxes may have left their smelly calling cards – you can look but don't touch!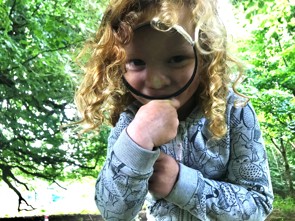 Play 
No matter what their age, children love to play! There are some great games that you can encourage the children to play and maybe even join in with them. 
Welly Wanging

 


This a great rainy day activity. Find an open space and have a welly-wanging contest. Throw your welly as far as possible and then hop to fetch it, trying to avoid getting a soggy sock! The person that wangs their welly the furthest is the winner!

Snail racing

 


Search for some speedy looking snails in damp, dark outdoor areas. Then set up a race with friends or family. Use sticks to create a start and finish line and then Ready-Steady-Go! Who will have the speediest snail? *They may need some encouragement to head towards the finish line.

 
Georgie Duckworth is the co-founder of Go Wild Go West and a freelance writer, broadcaster and speaker. For more ideas and mini adventures visit: www.gowildgowest.co.uk
To make your Pledge To Play and receive more free ideas as part of National School Sports Week, visit www.youthsporttrust.org/join-us/nssw