The School Games National Finals are back!
We are pleased to confirm that the 2022 School Games will be taking place in September, where we will the hosting ten sports, including Athletics (para events included), BMX, Cycling, Hockey, Modern Pentathlon, Netball, Triathlon (para events included), Wheelchair Basketball, Wheelchair Tennis and Women's Cricket.
For us to successfully deliver the event we are looking to recruit around 200 volunteers, who will act as representatives for the event, so we are looking for friendly, outgoing and reliable volunteers to fulfil a variety of roles.
It is through this event we aim to reward and recognise a diverse workforce of skilled, trained and enthusiastic volunteers and inspire them to continue their volunteering journey beyond this event.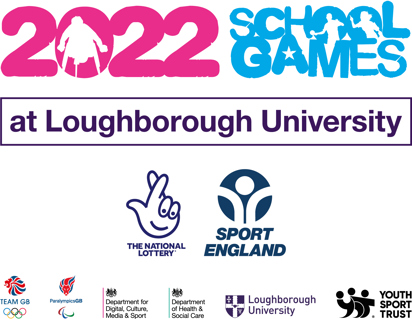 For the majority of roles, no specific experience is required, as training (including safeguarding training) and briefings will take place prior to the event to ensure that you are fully prepared for your role and responsibilities, you will also be required to complete the relevant checks.
For some roles, it will be beneficial, but not essential, to have experience of working with young people in a sports based setting, have good communication and listening skills, be able to follow instructions and be able to work on your own initiative, as well as work effectively as a team.
All volunteers will receive School Games branded event kit and a packed lunch during your shifts.
Please see further information below about the three different methods of application for volunteering at the Schools Games National Finals.
Individual General Volunteers
There will be a variety of roles available to general volunteers at the games including, but not limited to, working on ticket desks, supporting the athletes, providing spectator support and many other duties.
We will require a few volunteers during the weekend / days leading up to the start of the Games to carry out duties including general venue set up, bag packing and general administration tasks in preparation for the event
If you indicate on your registration form that you are interested in a particular role, we cannot guarantee that you will be given this role, however, we will do our utmost to put you into a similar role
When completing the information on your availability to volunteer, can you please ensure that, where possible, you are actually available, at that time, and willing to volunteer at that time. We are aware situations do change, so will look to accommodate any changes if required.
To be eligible to apply:
You must be 16 or over to volunteer at the Games as an individual volunteer. For Local School Group volunteers or young volunteers please see the section below
Volunteers must be available for a minimum of three shifts throughout the Games but if you can do more that would be great, so please indicate this on your application
You must be able to source your own accommodation or travel as no support will be provided.
Registration for volunteering at the School Games is now open and we really would like to have as many local people and University students, as possible volunteering at this event. So please help us by getting involved!
If you have any further questions email [email protected].
Thank you – we look forward to hearing from you!