Many young people have faced challenges with their learning, progress, behaviour, development and wellbeing these past 12 months. We are supporting their active recovery with resources and support for Holiday Food and Activity Projects and schools' sustained support for young people into next academic year.
Children that receive free school meals often don't get access to good food or physical activity during the holiday periods. Following the coronavirus pandemic this has been exacerbated by feelings of loneliness, anxiety, a digital divide and a lack of toys and play in the home.
We have created a range of packages for Local Authorities for the Summer and Christmas holidays to help overcome these challenges, helping with their resilience and mental health, building a sense of belonging as well as keeping them active and eating well at home. These packages include face-to-face delivery through our world class athlete mentors and activity packs and equipment to support being active and living well at home.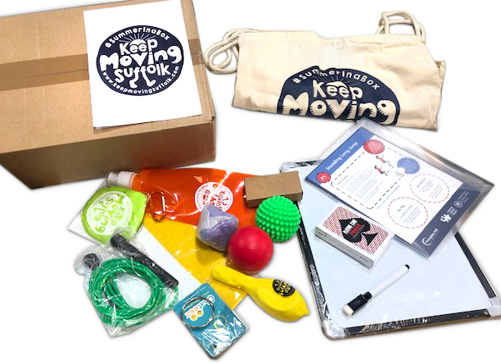 In these slides, Chris Wright, Head of Wellbeing at the Youth Sport Trust, runs through how the charity can support your Holiday Activities and Food project and why engaging the home is so important as a legacy for holiday provision.
Programmes undertaken last year with both Suffolk and The Mayor's Fund engaged 8,500 children and young people, providing them with age appropriate, healthy lifestyle and emotional wellbeing content that could be delivered at scale without the need for face to face contact. We also provided guidance for parents and deliverers to ensure they were able to deliver activities and use the equipment provided in a suitable and safe manner.
Working with the Youth Sport Trust on developing and distributing sports resource packs to young people in Suffolk over the school summer holidays was a positive and smooth process. From initial discussions through project development to delivery, the Youth Sport Trust staff were helpful, knowledgeable and flexible. Although timescales were relatively short they were able to deliver the project on time and on budget, keeping us informed of progress throughout. The packs have been well received with feedback being very positive.
As a result of the support you gave the programme, we were able to achieve remarkable impact across the two boroughs for children at risk of holiday food insecurity and social isolation. We served over 6000 children 150,000 meals and delivered 218,000 hours of play and learning. Thank you so much for everything that you have done to support the programme to give these children the summer that they deserve.
We would be delighted to work with any Local Authority who are looking to support the resilience and mental health of children as part of their holiday activity and food projects or have a need to add value to their face-to-face delivery with resources and activity packs.
For more information and to discuss our work, please contact Chris Wright.
Helpful Resources
Take a look at the HAF YouTube channel, download any of the additional resources from the right-hand side of this page, or click on any of the tiles below to find out more.