After a fantastic awards ceremony hosted by Radzi Chinyanganya, TV presenter, author and Ambassador for the Youth Sport Trust, we can reveal that the eight awards were won by the following individuals/schools:
YST Character and Leadership Award (Individual) - Holly Gate (The Purbeck School)
Holly's leadership journey began at primary school and has continued throughout secondary school and now into University life. She took to the stage with YST athlete mentor Aaron Phipps to present to 700 young people, teachers and deliverers at her school's Leadership Academy and has repeatedly given up her own time to support others. During the holidays, she was involved in delivering the county School Games offer, becoming an extended member of the delivery team by hosting the Summer Festival. Now at university locally, she has already been back to support with the delivery of primary leadership training. Holly has made a difference to thousands of young children's lives in Dorset and continues to be an integral part of the Dorset School Games Community.
YST Character and Leadership Award (Group) - Libby Hudson, Ella Hudson, Maddi Smith & Rosie Lee (Girls Leadership & Marketing squad, Somercotes Academy)
The group have been part of the Girls Leadership and Marketing squad (otherwise known as GLAMs) since the school started the YST Girls Active programme. Amongst other things, they have led PE lessons for previously inactive year 9 and 10 girls, delivered warmups to peers in their own PE lessons, and attended inspiration days where they encouraged year 9 girls to participate. Their biggest challenge was delivering an assembly to year 7 and 8 students on tackling the barriers girls face when participating in PE and sharing their experiences of sport in school to encourage students to attend clubs. The group played an integral role in Girls Active and will leave a legacy for years to come.
YST Inclusion Award (Individual) - Billy Ellerington (Horizons 6th form, St Martins School)
YST Inclusion Award (Group) - Young people sports panel (sportscotland; 2020 - 2022)
The panel is formed of 20 passionate young people aged 14 to 23 who have been instrumental in breaking down barriers to improve access to sport and physical activity in Scotland. Over the last two years they have developed a "Kit For All" campaign to offer free recycled and pre-loved sports kit to individuals and families most in need during a cost-of-living crisis. The panel play an active role in sharing the campaign and recently encouraged all Young Ambassadors across Scotland to get involved.
YST Physical & Mental Health Award (Individual) - Ruby James (Pen Y Dre High School)
YST Physical & Mental Health Award (Group) - Archie Mason-James, Kieran Wray, Faye Dudley, Mohammed Al-Amin, Elizabeth Cohen, Alfie Taylor-Waite, Alana Harket & Jesse Burridge (Marjorie McClure School)
The group of students from Marjorie McClure took part in YST's Active in Mind programme and were invited to become Mental Health Champions for their school. Over the last few years, the school continued to operate in bubbles to protect vulnerable staff and students leading students to feel isolated. The group delivered mental, physical and team challenges, creating a series of films that each class could access each week. As covid restrictions gradually lifted, students were able to meet the Mental Health Champions and have mentoring moments face to face. The group worked incredibly hard to bring back a little bit of magic during the pandemic.
YST Young Activist - Zoe Nabbs (South Bromsgrove High School)
YST International Development Award  - Lucy Protas Michael (Tanzania)
Lucy is a graduate of the first Beckwith International Leadership Development Programme, which took place in her home country of Tanzania. After honing her leadership skills, Lucy followed a career in sport for development and set up Sports for Change, a sport for development organisation which uses sport as a tool to support health, wellbeing and address education challenges such as dropping out of school, truancy and teenage pregnancy and promote gender equality. Lucy has since represented Tanzania and broadened her skills at Youth Leadership Camps in Berlin and Sweden. At the Berlin event, Lucy was voted the most supportive and caring young leader by her peers.
In response to receiving her award Lucy said;
"Foremost I wish to convey my deepest gratitude to y'all for considering me for the award. Honestly, It fees good when one's efforts and contributions get recognized. Asante sana (Thank you)

I promise to use this award as a motivation to touch more lives and make a positive contributions to more children in Tanzania.

I hope that I will open more doors for Tanzania youth whom lives would be changed through sports."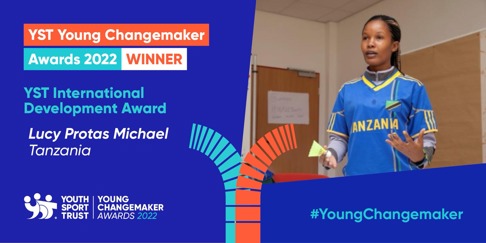 If you have some great practice in your school that you would like to showcase, check out the YST Conference Awards for categories and how to enter.