National School Sports Week is back for 2023, and this year we want to make sure that all children in the UK are active for the Chief Medical Officers' recommended minimum time of 60 minutes a day. That's why this year, along with our campaign partner Sports Direct, we're asking you to 'play for fun, play for 60'!
We want to help families to ensure all young people have access to sport and physical activity. As the cost-of-living crisis compounds the already significant impact of COVID-19 we are offering a range of free support options.
We know that healthy, happy children learn better, and our work builds their mental and physical wellbeing and equips them for learning, enabling them to achieve their potential and preparing them for adult life. You can find out more about us here.
On this page you can find:

85% of parents and carers are concerned about the impact of the cost-of-living increases on their family

27% have struggled with the cost of sports kit over the last year – c. 450,000 more children than are in receipt of Free School Meals
Our #HalfTimeChallenge is designed to get families active and having fun during half-time breaks across the FIFA World Cup!
During the 2022 tournament, the Youth Sport Trust will release three video challenges via our social media channels below for families to complete.
The videos will test families' football skills with challenges such as nearest to the pin, 'keepy uppies' and dribbling accuracy.
At each stage you can upload photos and videos of yourself and your family participating in the challenges, using the hashtag #HalfTimeChallenge and tagging @YouthSportTrust for a chance to WIN one of three Adidas Al Rihla footballs. The official match ball of FIFA World Cup 2022 in Qatar.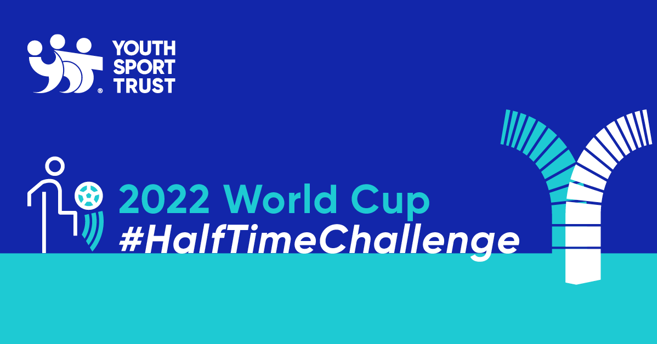 There are also three fun additional resources for all the family to try - Ball About You, Design Your Own Kit, and Dream Team.
Read our latest issues by clicking on any of the links below...
Issue 3 - Summer 2022
Be the change - help us to change lives right now
The power of sport - why getting active is the key to a happy life
Be inspired this summer - use this amazing summer of sport as a springboard for an active autumn.
Issue 2 - Spring 2022
Summer of sport - this year's line-up to inspire your family
Rise to the challenge - help us and tick something off your bucket list
Spring into action - our tips and tricks to help your children and young people get active.
Issue 1 - August 2021
Feelgood factor - boost your children's wellbeing with our top tips
Decision time - what to consider when choosing a school
Rediscover your summer - make the most of the warmer weather after a year where we missed so much.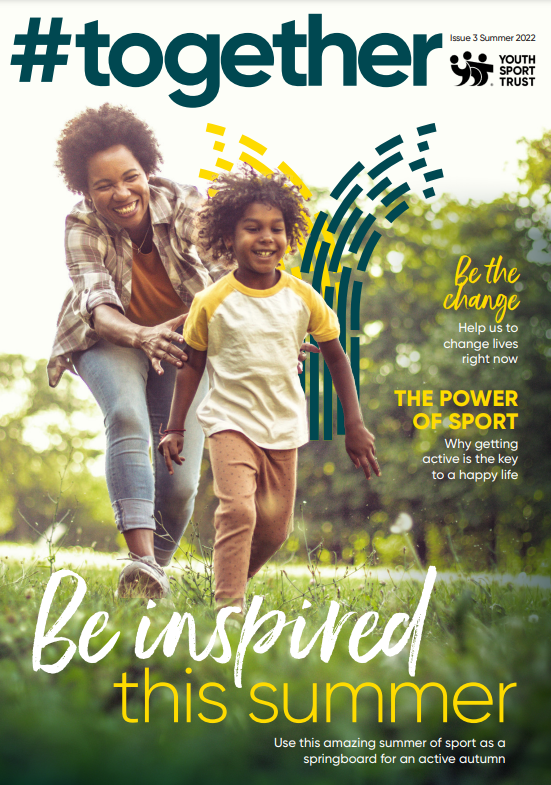 Free resource
Free
60 Second Physical Activity Challenges
A fun 'compete against yourself' approach to physical activity with a focus on resilience and perseverance and the aim to achieve bronze, silver or gold medal targets.

Free resource
Free
Garden Games
Garden games with a sporting twist for all the family to try. This resource pack includes par for the course, skip to it 1 and 2, and trials and trails.

Free resource
Free
Indoor Activities
Indoor activities with a sporting twist for all the family to try. This resource pack includes cheerleading, circus skills, and old favourites.

Free resource
Free
Physically Active Board Games
Classic board games with a sporting twist for all the family to try. This resource pack includes bingo, connect four, jigsaw and arrows, snake and ladders, and sportopoly.
The four resource sets featured above were originally released in 2020 as part of our response to the COVID-19 pandemic, but have continued to be amongst the most popular on our website.
Click on any of the resources listed to find out more about what's included or click here to see our full range of free content.